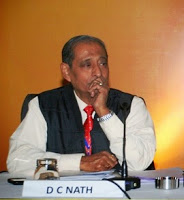 President of Patriots Forum, D.C. Nath was superannuated in January, 1995, as the Special Director, Intelligence Bureau, D.C. Nath (IPS-1960) was associated with the International Institute of Security and Safety Management (IISSM), headquartered in New Delhi, for over 14 years, first as the Executive President & CEO and then as the President & Director General, between February, 1997 and March, 2011. The author of a highly acclaimed book, Intelligence Imperatives for India, Mr. Nath earned high plaudits from all around for two of his very significant presentations on: "Revisiting the Future of India" (2005, London) and "Lessons from India for the War On Terrorism" (2007, USA). He is the only one in the field, combining the experiences of a police officer with specialization in intelligence and strategic analysis and an industrial security expert par excellence. More Bio on D. C. Nath…
News Research & Analysis Files-
NAI MANZIL TO TAKE MADRASA PASSOUTS TO NEW HEIGHTS << News analysis file 1
OPINION>>>>
January 5, 2015
To
Dr. Najma Heptulla
The Honourable Minister,
Ministry of Minority Affairs,
The Government of India,
New Delhi.
Dear Minister,
Subject: How Much More To Help?
Our attention has been drawn to the front page report in The Pioneer (copy attached) on how your Ministry proposes to help students of Madrassas to get jobs, etc.
As the "second grade" citizen of India by virtue of being Hindus, the question that we will straightaway, and may be somewhat bluntly, ask, "How much more the government will appease a community, who are, by government studies, not only not handicapped but are ahead of the Hindus, that is, people like us, in respect of known human development indices, including urbanisation, generally considered as a distinct sign of progress. All this must be known to your Ministry also.
Leaving aside the spate of doles to the minorities granted by the erstwhile UPA government and still being granted by the present government, in stark denial of the same to much more deserving cases of poor Hindus, especially in the rural areas, one can legitimately raise the question why is this government move to help the Madrassa students? Who had, in the first place, told them not to take advantage of government-run schools? Secondly, is your ministry doing the same to the tribals, who deserve such help much more and in the absence of which are falling easy prey to conversion by both Christians and Muslims?
Well, your ministry will, we hope, be also abreast of what some of the Madrassas are doing or how are directly involved in terrorism as illustrated in the Burdwan case of October 2, 2014. Are you not then this planning or helping terror outfits, masquerading as Madrassas, to grow in the country?
Well, Madam, we would, in the face of these simple facts (much more grounds can be adduced), urge you not to patronise the these so-called educational institutions.
You would be aware the Islamic leaders have, both during the UPA regime and more recently during the current popular government also, refused to accept plans to help modernisation of Madrassas on science education, etc. Why?
And, how can the government (in principle it cannot as Madrassas are supposed to religious educationals) help a community who under scriptural sanction does not allow 50 percent of its population, that is, the women folk, to go out for earning a living?
Be that as it may, as watchers of people's feeling, let us put it in record that a strong feeling of grievance has already been growing that the present NDA government has been continuing with the old UPA policy of openly following minority appeasement policy, whereas the general people expected stoppage of such institutional favouritism. Now, if, on top this, your proposal is pursued and implemented, that will be a recipe for deliberately fomenting communal passion. The result thereof will not be happy. You cannot then put the blame on alleged nationalist Hindu chauvinists.
Well, the honourable Minister, we want the present popular government to succeed in its task of developing the country. But, programmes, such as what your ministry have been planning is bound to create serious communal turmoil all over the country. After all, there is a limit to accepting discrimination, particularly when it hurt them hard in the stomach.
Let us assure you we are a group of peace-loving people, dedicated to serve country by way protecting our culture, but when necessary, we tell the government where or when it is, in our humble perception, not on the right track.
Copy for information and action, as thought appropriate, to:
1. Union Home Minister;
2. PMO;
3. NSA
Vandemataram,
Yours sincerly,
D.C. Nath
(Former Spl. Director, IB)
(President, Patriots' Forum)
Source: Patriot Forum
Disclaimer: The opinions expressed within this article /news /published content are the personal opinions of the submitting author / organization. World Hindu News  is not responsible for the accuracy, completeness, suitability, or validity of any information on this article /news/published content. All information  received is provided on an as-is basis. The information, facts or opinions appearing in the article / news /published content do not reflect the views of World Hindu News and World Hindu News does not assume any responsibility or liability for the same.