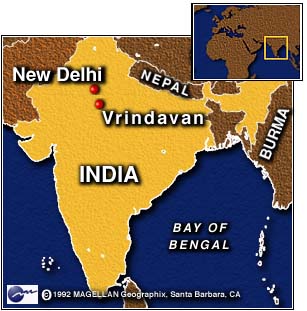 Namaste!
I'm writing to you from the wonderful village of Vrindavan, India, hoping this letter finds you well and with good health. 
I am part of the group that participated in the World Hindu Congress 2014 with the objective of raising awareness about the importance of protecting Bhumi Mata, Mother Earth as a fundamental part of our Hindu heritage and practice. 
As well as cleaning sacred places in India, such as Vrindavan, we are currently working on the following campaign to promote solar energy and help improve the electric system of this town which represents a risk to people, animals and the environment. 
Please take a look at the link below, watch the two minute video and give a contribution to Vrindavan. I trust that you will receive much more in return in form of blessings for your donation. 
Thank you for being so kind and taking the time to help our beautiful Bharat!
May you be always enlightened with love and happiness.
Source: WHN Media Network