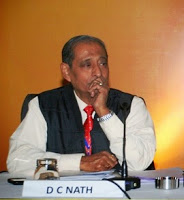 President of Patriots Forum, D.C. Nath was superannuated in January, 1995, as the Special Director, Intelligence Bureau, D.C. Nath (IPS-1960) was associated with the International Institute of Security and Safety Management (IISSM), headquartered in New Delhi, for over 14 years, first as the Executive President & CEO and then as the President & Director General, between February, 1997 and March, 2011. The author of a highly acclaimed book, Intelligence Imperatives for India, Mr. Nath earned high plaudits from all around for two of his very significant presentations on: "Revisiting the Future of India" (2005, London) and "Lessons from India for the War On Terrorism" (2007, USA). He is the only one in the field, combining the experiences of a police officer with specialization in intelligence and strategic analysis and an industrial security expert par excellence. More Bio on D. C. Nath…
News Research & Analysis Files-
Indian Prime Minister Science Can Unify the World and Advance Peace << News analysis file 1
OPINION>>>>
January 12, 2015
Dear Friends,
Subject: The 102nd Indian Science Congress.
Just when we had started feeling upset in not seeing any report on the recently held 102nd Indian Science Congress (January 3–7, 2015), we find a write-up on that in "The Hindustan Times" of January 11, 2015, titled, "Theory of Everything: "The 102nd Indian Science Congress was a serious affair where gold-producing cows and ancient intergalactic planes were discussed. Lucky for us, we discovered a blog from 5,000 BC that proves our ancestors invented everything and were superior in every way."
But, we had before that received a very detailed and lucid account of this year's Science Congress in Mumbai from our friend from US, Ramtanu Maitra. Its theme was "Science And Technology For Human Development". He quotes the Indian Prime Minister: "Science Can Unify The World And Advance Peace".
Now to the text of Ramtanu's paper (copy attached):
· Delivering the inaugural address on Jan. 3 to the 102nd Indian Science Congress at the University of Mumbai, Indian Prime Minister Narendra Modi said he has placed science and technology at the forefront of his diplomatic engagement with other nations, because "a nation's progress and its human development are linked to science and technology." He further said, "Let me say, for a safe, sustainable, prosperous future for India; or global leadership in a knowledge- -and technology-intensive world, we need to put science, technology, and innovation at the top of national priorities. I am confident that we can do it."
· Placing the scientists at the center of India's future, Modi said: "Above all, we must restore the pride and prestige of science and scientists in our nation; revive the romance for science in society; rekindle the love for it in our children; and, encourage our scientists to dream, imagine, and explore."
· It was only natural that India's scientific community as well as its citizens, were expecting new directions from the premier in his inaugural speech at the 102nd Science Congress. Modi made clear that he puts India's science and technology at the heart of diplomatic engagement with neighboring nations in particular, and considers it an essential ingredient in his plan to make India one of the world's manufacturing centers.
· He said, I wanted to appeal to all the people the world over, from the ramparts of the Red Fort, 'Come, make in India,' 'Come, manufacture in India.' Sell in any country of the world, but manufacture here. We have got skill, talent, discipline, and determination to do something. We want to give the world a favorable opportunity to come here: 'Come, Make in India.' And we will say to the world, from electrical to electronics, 'Come, Make in India'; from automobiles to agricultural value, 'Come, Make in India'; paper or plastic, 'Come, Make in India'; satellite or submarines, "Come, Make in India'; our country is powerful. 'Come, I am giving you an invitation."
· He further said it, "a nation's progress and its human development are linked to science and technology. In more recent times, China's emergence as the second-biggest global economy is in parallel to its rise to second place in science and technology activities. Science and technology can also remove national barriers, unify the world, and advance peace. It can bring nations, rich and poor, into a shared effort to address global challenges."
· Addressing India's youth, he said: "But, the dreams we all share for India will depend as much on science and technology as it will on policy and resources, to make our agriculture more resilient and yield more; to develop appropriate and affordable technologies for rural areas; to do more from every drop of water; and, explore the potential of marine resources.
The crux of Modi's speech was based on what ancient India had taught him: "Human civilization has advanced because of the basic human spirit of inquiry and quest for understanding our universe and world," he said. "It is a search driven by the belief in what our Vedas described as, Satye Sarvam Pratisthanam: 'Everything is established in Truth." That truth, he said, is: "Science and technology have helped reduce poverty and advance prosperity; fight hunger and improve nutrition; conquer diseases, improve health, and give a child a better chance to survive; connect us to our loved ones and the world; spread education and awareness; and, given us clean energy that can make our habitat more sustainable." The other part of that truth, Modi pointed out, is: "Science may be the product of the human brain. But, it is also driven by the compassion of the human heart—the desire to make human life better."
Friends, we have also read in the press (already reported in our Weekly Newsletter) that one significant subject of discussion in the Science Congress was the relationship between "Science And Sanskrit", a thing that has never happened in the past in this 102nd year of this Congress. All this bodes well, we suppose.
Vandemataram,
Your sevak,
D.C. Nath
(Former Spl. Director, IB)
(President, Patriots' Forum)
Source: Patriot Forum
Disclaimer: The opinions expressed within this article /news /published content are the personal opinions of the submitting author / organization. World Hindu News  is not responsible for the accuracy, completeness, suitability, or validity of any information on this article /news/published content. All information  received is provided on an as-is basis. The information, facts or opinions appearing in the article / news /published content do not reflect the views of World Hindu News and World Hindu News does not assume any responsibility or liability for the same.