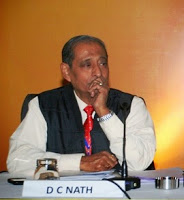 President of Patriots Forum, D.C. Nath was superannuated in January, 1995, as the Special Director, Intelligence Bureau, D.C. Nath (IPS-1960) was associated with the International Institute of Security and Safety Management (IISSM), headquartered in New Delhi, for over 14 years, first as the Executive President & CEO and then as the President & Director General, between February, 1997 and March, 2011. The author of a highly acclaimed book, Intelligence Imperatives for India, Mr. Nath earned high plaudits from all around for two of his very significant presentations on: "Revisiting the Future of India" (2005, London) and "Lessons from India for the War On Terrorism" (2007, USA). He is the only one in the field, combining the experiences of a police officer with specialization in intelligence and strategic analysis and an industrial security expert par excellence. More Bio on D. C. Nath…
OPINION>>>>
January 13, 2016
Dear Friends,
Subject: West Bengal Revisited—Where Did We Go Wrong?
As the title will tell, it would be an attempt at self-introspection. It is in the light of the security sensitivity of this border State with porous international border. We have sent up a number of mails on the subject for whatever worth at all these have been. These have been based on facts and facts only. At times, these would have appeared critical of the government of West Bengal or of its flambouyant and highly proactive Chief Minister Mamata Banerjee.
But, we vouchsafe we have not been deliberately critical of either the State government or of Mamata Banerjee individually. Facts have come as facts.
1. a) Let us start off with the latest. There have recently been Hindu-Muslim riots in a prominent Muslim majority district, Malda, in the northern part of the State. The Chief Minister Mamata Banerejee denied this white truth. The lead editorial in one of the leading English newspapers in the Capital city of Delhi commented on that. We shared that with our esteemed readers as also the Union Home Minister. Recently, in the light of the communal feelings that must still be prevailing there, the local administration have not allowed a joint team of left-BJP combine to visit the affected spot Kaliachak. We have read in the press that the Union Home Minister, who was to visit the affected place a few days back, will now lead a BJP delegation there soon.
1. b) It has since transpired that the Malda case, as has since come to be known, is a part of huge game plan with multi-State dimension, involving Odisa and Assam as well. We shall have to hold the breath till its full ramifications are known. So, it appears Mamata Banerjee' first response was almost child-like, if not totally childish.
1. c) The second editorial in "The Hindustan Times" of date, "Lessons From Malda", makes an interesting comment, "While the West Bengal government deserves praise for being able to administratively handle the situation so far by containing violence, Chief Minister Mamata Banerjee had made light of the matter by saying that the issue was a "local problem" between the BSF and the people and not a "communal one". It is here that caution is advised. Her government should remain alive to any such undercurrent of tension and have a finger on the State's pulse, especially at a time when Ms Banerjee is seeking a mandate for a second term as Chief Minister."
2. Honestly speaking, while planning this composition, we had thought of starting this essay with a very positive picture of what is typically called in Bengali, "Gram-Bangla", that is, rural Bengal. But, Malda took being in lime light us away. A close, sensitive and responsible friend had recently been to West Bengal.He tells us there have been very good all-round development in "Gram Bangla", good roads improvement, especially keeping in mind religious pilgrimage, good roadside facilities, etc. etc. All these were heartening.
3. Getting back, we had the occasion to report a first hand account from a Kolkata friend, "In some areas of Murshibad district, Hindus needed local Muslims' permission to bury their deads in specific burning-ghats, in use for such purposes for several hundreds of years. The local police pleaded inability and asked the concerned to do as directed by local Muslim goons."
4. The recently held municipal elections in Salt Lake area of Kolkata showed how pathetic was the position of the local police. Putting them aside, TMC goons brandished short arms and daggers directing the people how should the vote. All these have been captured in video. Many the photos appeared in press. But, the State Chief Minister was again in denial and maintained that election were peaceful.
5. A general trait One having suffered at the hands of the TMC ruffians, makes a complaint, Mamata Banerjee would almost routinely come out, "It is a conspiracy, it is a conspiracy," allegedly by the left whom she had very convincingly displaced.
6. The field of education. A detailed circulatory mail sent out by us a few days back has the full details. The TMC leaders started with the prestigious Presidency College perhaps on the model of the then Naxal movement. TMC students unions are now on the prowl. The other day we read in the press that the Principal of a college had been kept "gheraoed"/confined for some days and was roundly abused and duly beaten up also. He resigned his job quietly.
7. Law and order situation:
a) One DGP of the state was often seen on the TV set running behind the Chief Minister and standing behind her like a police orderly with files in his armpit. He was duly rewarded. On superannuation, he was made the Chairman of the State Human Rights Commission.
b) The local police were carrying a surprise motor vehicle check in a busy road junction. On seeing that, some motor cyclists took out their white skull caps, the police halted their operations, almost reverentially escorted those in skull caps and restarted what they were doing. This experience was shared by a friend who had gone to Kolkata on a short visit.
c) Just before the Durga Puja Days this year, posters were put on stands on important road-sides, debarring the holding of this annual festival in the industrial city of Asansol and in some neighbouring district. It was not clear who were behind this mischief. The suspicion is: it was done by the TMC goondas, hailing from the Muslim community, but with the connai vance of the local police.
d) An incident at Shyampukur PS in the city of Kolkata itself on January 11, 2016. The relatives of a man-woman recovered by the police, raided the police station and snatched away/taken away the arrested duo without the policemen present at the police station having raised a voice even. The concerned Joint Commissioner of police, Kolkata has confirmed the incident. (Ref, The Dainik Statesman, a Bengali daily, published from Kolkata of January 12,2016)
e) The State of West Bengal is among those who have not neither implemented nor responded to the Supreme Court to the latter's direction on the famous Police Reforms Case being pursued by Shri Prakash Singh.
8. Miscellaneous
a) The illegal Immigration from Bangladesh continues unabated—thanks to the vote bank politics started by the Marxists.
b) The Burdwan case of October 2, 2014, is too fresh to forget. The chain of Madrassas were in use as places of manufacturing arms and ammunitions, with the help of the Bangladesh-based Jamaat. Now, Ihe ISIS have positioned themselves in Bangladesh.
c) Mamata Banerjee has sent up to the Rajya Sabha, a self-confessed founder member of the SIMI, namely, Imran Khan. He has turned up to be Pakistani by birth. He was born in East Pakistan, that is, in Bangladesh when that country was not Bangladesh.
d) The Sarda Scam has already caused many to commit suicide. It has also been heard many among the poor Hindus, hoping to gain bumper ride, as at times it so happens in such dubious ventures has gone over to the Islamic faith and have been sheltered in Madrassas. Things are not good for Mamata herself. The CBI can possibly do more in this case which would not be very comfortable to Mamata. In one word, the CBI has not done or have been allowed to do as much it could have by now.
e) We would fail in our task if we do not touch upon that infamous case of kidnapping of the 14-year old Hindu girl, namely, TukTuki, by a Muslim youth. A well-known social activist pursued the case hotly and finally recovered her. It was like a case of 'love Jihad'. The social activist, referred to earlier, who, we are aware, has very good ground level coverage, tells us that a large number of TukTuki like love jihad cases are taking place in rural areas of the State almost on a daily basis but these are going unnoticed.
Before we end this account, it is necessary to point out that we have not touched on a very important and realistic aspect of the West Bengal situation. We have deliberately stayed away from that. That is the complete and continuing 'minority appeasement policy' of Mamata Banerjee, she herself leading the field by setting the example of converting herself into Islam in the public. A CD on her formal conversion was available and has been seen by many. We did not want to blamed to be anti-Mamata, whatsoever.
Well, Friends, we have laid out bare facts. Have we gone wrong or shown any bias? We shall be happy to be corrected.
Vandemataram,
Your sevak,
D.C. Nath
(Former Spl. Director, IB)
(President, Patriots' Forum)
Copy forwarded for favour of action, as thought appropriate:
· The Union Home Minister,
(Shri Rajnath Singh)
· The Union Home Secretary
(Shri Rajiv Mehrishi)
· The Minister for External Affairs,
(Suhama Swaraj)
· Foreign Secretary,
(Shri Subrahmanyam Jaishankar)
· The Defence Minister
(Shri Manohar Parrikar)
· Defence Secretary
(Shri G. Mohan Kumar)
· Cabinet Secretary
(Shri Pradeep Kumar Sinha)
· The Prime Minister's Office
(Shri P.K. Mishra)
· The National Security Advisor,
(Shri A K Doval)
Yours sincerely,
D.C. Nath
(Former Spl. Director, IB)
(President, Patriots' Forum)
Source: Patriot Forum
Disclaimer: The opinions expressed within this article /news /published content are the personal opinions of the submitting author / organization. World Hindu News  is not responsible for the accuracy, completeness, suitability, or validity of any information on this article /news/published content. All information  received is provided on an as-is basis. The information, facts or opinions appearing in the article / news /published content do not reflect the views of World Hindu News and World Hindu News does not assume any responsibility or liability for the same.