Despite the Covid-19 pandemic acting as a dampener for Durga Puja festivities, idol makers and Puja organisers across Bengal have kept up with the tradition of bringing unique variants of idols for celebrations this year. In Pic: A Goddess Durga idol at the city's Ahiritola Jubak Brinda pandal.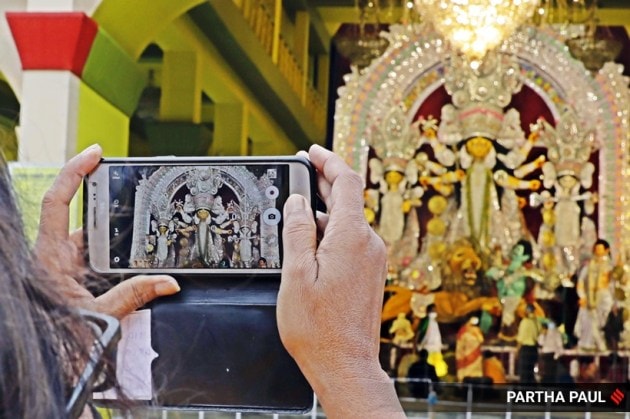 After the Calcutta High Court order banned visitors' entry to pandals, organisers, in last-minute changes, also installed giant screens outside the pandals for "darshan" and virtual "pushpanjali" for devotees. In pic: Devotees click picture of Goddess Durga at pandal in Kolkata.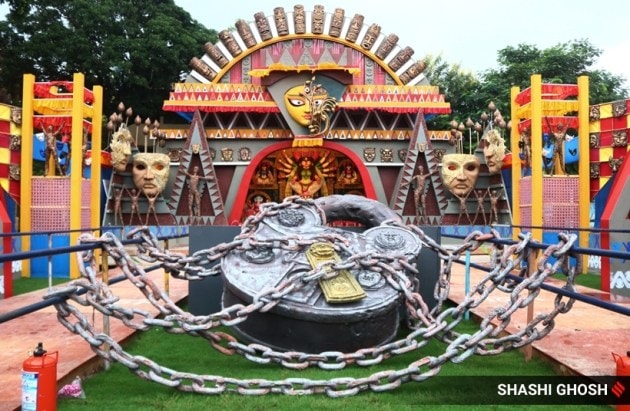 Among the themes the pandals have dealt with include the Covid-19 pandemic, nation-wide lockdown, the India-China border dispute, and migrants walking back to their home states during the lockdown among others. In Pic: At the Durja Puja pandal in Kumartuli park. Here this year, the theme of the pandal is 'lockdown'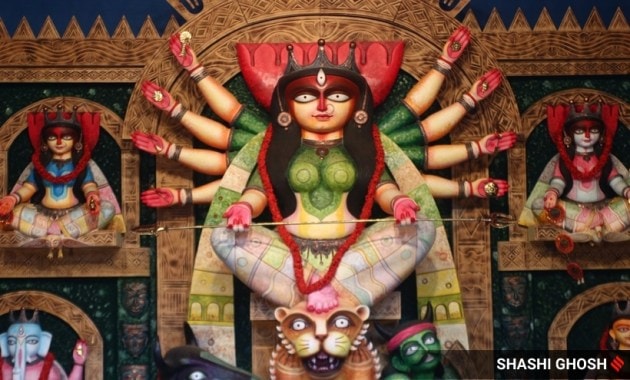 The festival of Durga Puja coincides with the nine-day/night Navratri festivities, which essentially celebrates and reveres the nine most prominent forms of Goddess Durga.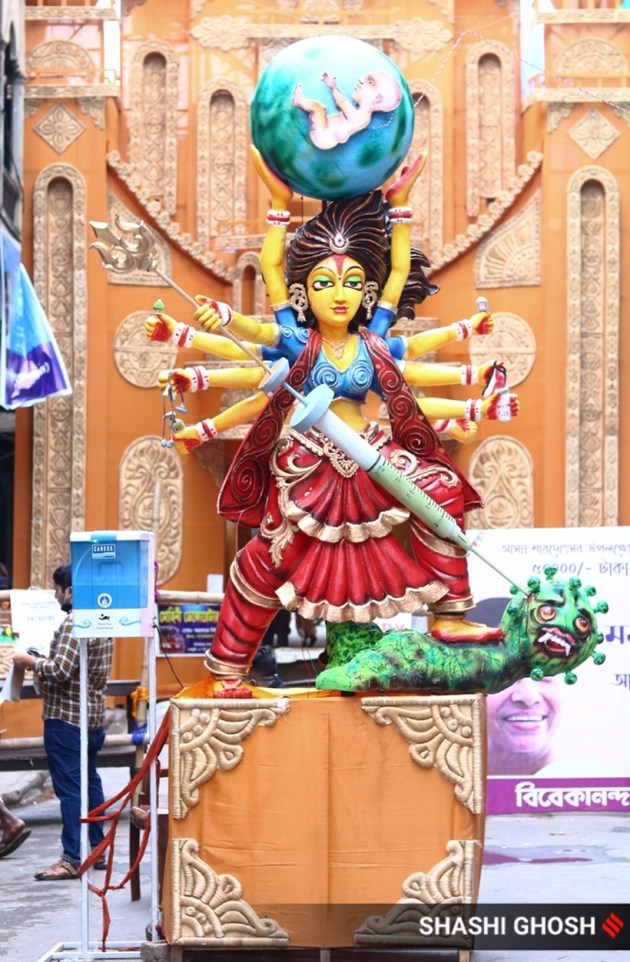 It marks the victory of the goddess over demon king Mahishasura. It is for this very reason that her idol can be seen slaying the demon, who is depicted as being at her feet, being mauled by her vahana, a lion. In pic: At a Covid-19 theme pandal at Kolkata's Simla Vivekananda sporting club.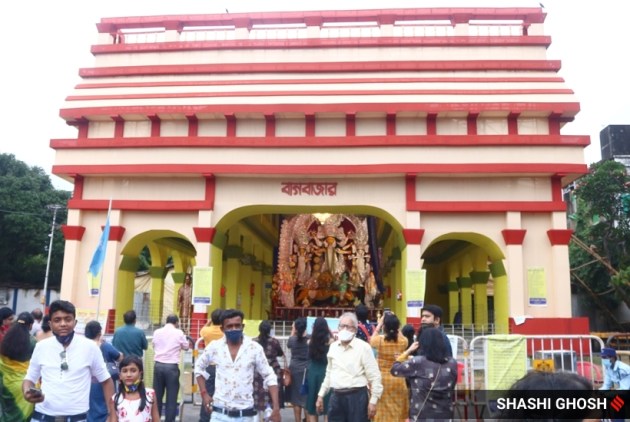 On Thursday, Prime Minister Narendra Modi virtually addressed the people of West Bengal on the occasion of Durga Puja. PM Modi shared his puja greetings in Bengali and appealed to the people to adhere to social distancing norms and wear face masks while taking part in the festivities. In Pic: At the Baghbazar Sarbojanin Durga Puja pandal in Kolkata.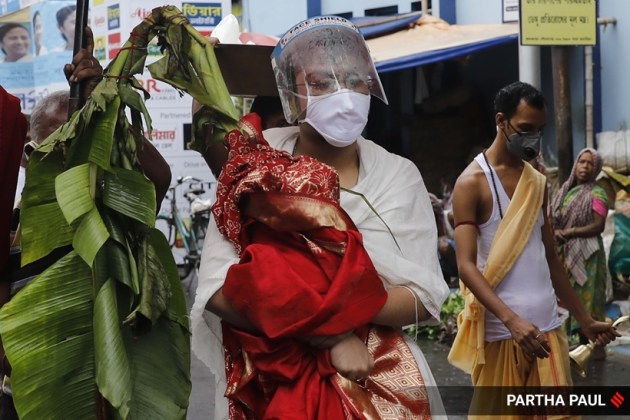 Durga Puja essentially begins on the sixth day of the nine-day function, which culminates with Dussehra or Vijay Dashami. This year, Durga Puja will begin on October 22 and will continue till October 26, 2020.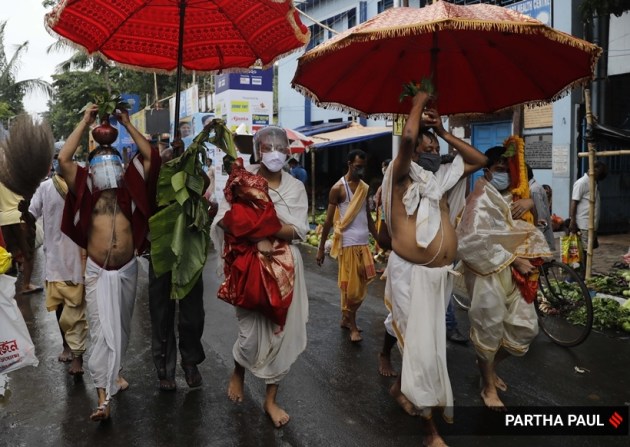 The festival is preceded by Mahalaya, which is believed to mark the start of Durga's journey to her natal home, with her children. The main celebrations, however, begin on the sixth day or Shashti. In pic: Devotees on their way to perform a Durga Puja ritual at the banks of River Hugli.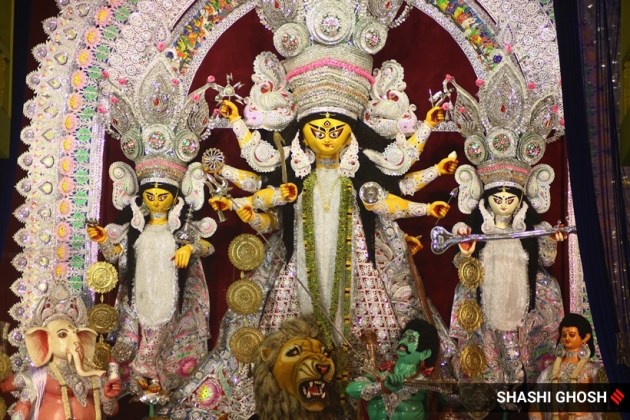 The festival ends with Vijaya dashami (10th day), and on this day people exchange greetings after the idols are immersed in the river. Durga Puja is especially popular in West Bengal, Assam, Bihar, Tripura and Odisha, apart from Bangladesh and Nepal. In Pic: The Baghbazar Sarbojanin Durga Puja pandal in Kolkata.