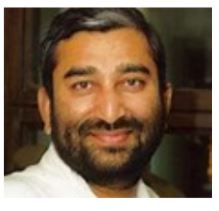 Mr. Pandit is a communication strategist by profession. In September 1999, Mr.
Pandit founded Hive Communication India Pvt Ltd, Delhi and took responsibility as
chief executive officer. In addition, Mr. Pandit is a well-known Kashmir activist and
a scholar of the Kashmir conflict in India. He is also one of the most sought-after
political program panelists of Indian media and guest speakers on the subject. Sushil Pandit is the Co-Founder of the 'Roots in Kashmir' in India, an initiative to raise public awareness on reclaiming roots that identify Kashmiri Pandits and the Editor of
'Praznath', a quarterly journal on the culture and identity of Kashmir.