As per the legends, Shiva was born as Piplaad to sage Dhatichi. The sage left his son even before he was born. Upset without his father Piplaad asked the devas why my father left me. They told him that the unfortunate circumstances were formed because of the planetary position of 'Shani.' On learning this, Piplaad cursed Shani and Shani started falling down its celestial abode.
Piplaad forgave Shani on the condition that it will not trouble anyone before 16 years of age. It is believed that praying to this form of Lord Shiva helps people to get rid of Shani Dosha. According to Shiv Puran, Lord Brahma had named this avatar of Lord Shiva.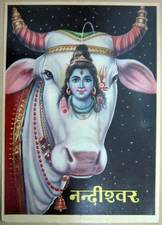 Enter any Shiva temple in the country and you will first witness a statue of the quietly formidable Nandi, Lord Shiva's mount and the divine gatekeeper. Lord Shiva represents all beings on Earth. This avatar of Lord Shiva is an indication towards it. There are some temples which are exclusively built for Nandi. The famous Nandisvara temple in Karnataka is one such.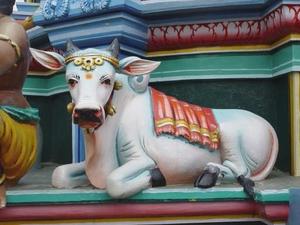 As a primary Hindu God, Nandi is traced in lineage back to ancient dairy farmers that depended on cows for their main livelihood. As their foremost source of sustenance, Nandi was worshiped as keeper of the herds. In this form he was said to be bull-faced with a body much like his hallowed Shiva, but with 4 hands. Two hands holding axe and antelope, and the other two joined in homage. In this human form he is known as Nandikeshwara.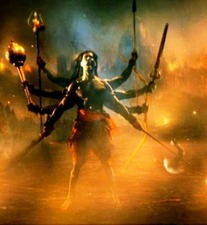 Sati was the youngest daughter of Daksha, the king of all men. When Sati grew up she married Shiva,much to the displeasure of her father. One day Daksha made arrangements for a great yagna, and invited all the gods omitting only Shiva. Sati's urge to go to her home due to the affection towards her parents overpowered the social etiquette for not going to an uninvited ceremony. Daksha insulted her and Shiva infront of others. Unable to bear further trauma she ran into the sacrificial fire.
When Shiva came to know about this and with deep sorrow and anger, plucked a lock of hair and thrashed on the ground. Lord Veerabhadraand Rudrakali were born. Virabhadra's believed to be the destroyer of Ajnana, his tall body reached the high heavens, he was dark as the clouds, three burning eyes, and fiery hair; he wore a garland of skulls and carried terrible weapons. To provide him the power, arrived Bhadrakali, a wrathful incarnation on Devi.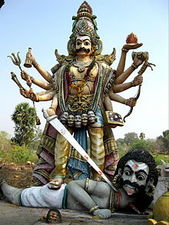 On the direction of Shiva, Virabhadra appeared in the midst of Daksha's assembly like a storm and broke the sacrificial vessels, polluted the offerings, insulted the priests and finally cut off Daksha's head, trampled on Indra, broke the staff of Yama, scattered the gods on every side; then he returned to Kailash.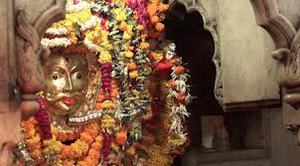 Bhairava, sometimes known as Kaala Bhairava, Kal Bhairab, Annadhaani Bhairava, Bhairon or Bhairadya, is the fierce manifestation of Lord Shiva associated with annihilation. The origin of Bhairava can be traced to the conversation between Lord Brahma and Lord Vishnu recounted in "Shiv Maha-Puran" where Lord Vishnu asks Lord Brahma who is the supreme creator of the Universe. Arrogantly, Brahma tells Vishnu to worship him because he (Brahma) is the supreme creator. This angered Shiva who then incarnated in the form of Bhairava to punish Brahma.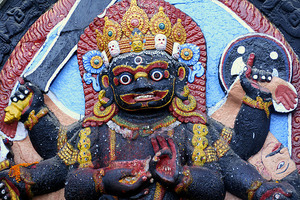 Bhairava beheaded one of Brahma's five heads and since then Brahma has only four heads. When depicted as Kala Bhairava, Bhairava is shown carrying the severed head of Brahma. Cutting off Brahma's fifth head made him guilty of the crime of killing a Brahmin(Brahmahatyapap), and as a result, he had to carry around the disembodied skull for twelve years and roam as Bhikshatana, a mendicant, until he had been absolved of the sin.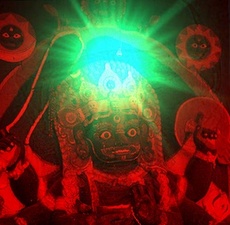 In the form of the frightful Bhairava, Shiva is said to be guarding each of these Shaktipeeths. Each Shaktipeeth temple is accompanied by a temple dedicated to Bhairava.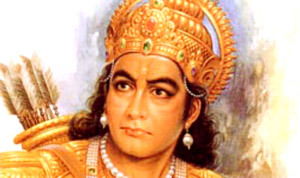 According to Mahabharat, the son Dronacharya, Ashwatthama is an ansh Lord Shiva's Kaal, krodh (anger) and Yam (death). During Samudra Manthan , Halahaal the fuming posion capable of burning universe appeared and all Dev Danav Manav Yaksha Gandharva fled. All of them along with Lord Vishnu and Lord Bramha came to Lord Shiva. Lord Shiva consumed Halahaal and held it in his throat. However unable to bear its consequences it started burning him.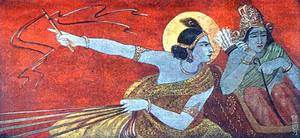 The Vish purush sprung out of him folded his palms, Lord Shiva asked him that although Lord Vishnu and me didn't let you kill the people yet in Dwapar Yuga but during Mahabharat war, with my blessings, you will be able to kill oppressive kshatriyas. You will be born as Bhardwaja's grandson and be raised as Brahman but attracted towards Kshatriyahood. This Vish purush was born as Ashwatthama to Drona and Kripi.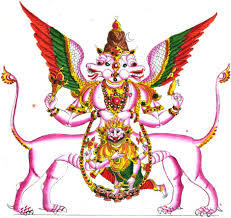 Sharabha is a creature that is part lion and part bird. According to Sanskrit literature, Sharabha is an eight-legged beast, mightier than a lion and elephant and which can kill the lion. In later literature, Sharabha is described as an eight-legged deer. Shiv puran narrates that god Shiva assumed the Avatar of Sharabha to tame Narasimha – the fierce man-lion avatar of Vishnu worshipped by Vaishnava sect – into a normal pleasant form representing harmony. This form is popularly known as Sarabeshwara (Lord Sarabha) or Sharabeshwaramurti.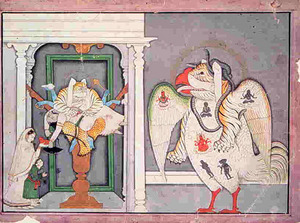 The iconography of Sharabeshwaramurti (Shiva as Sarabha) is specifically defined in texts such as Khamikagama and Sritattvanidhi. In Khamikagama, Sharabha is described in the form of a bird with golden colour, with two uplifted wings, two red eyes, four legs in the form of a lion touching the ground, four legs with claws upwards, and with an animal tail. The top part of the body is shown as human but with the face of a lion with an ornamented crown; side tusks are also depicted giving an overall frightening sight. It also shows the Narasimha beneath Sharabha's legs as a human with anjali (hands folded prayer).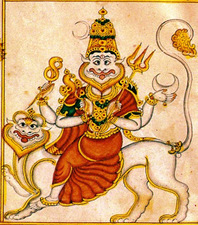 In the Sritattvanidhi, the depiction prescribed for Sharabeshwaramurti is of thirty arms; arms on the right are to hold thunderbolt, mushti, abhaya, chakra (discus), sakti, staff, goad, sword, Khatvanga, axe, akshamala, a bone, bow, musala, and fire; and the left hands to display noose, varada, mace, arrow, flag, and another type of sword, a snake, a lotus flower, skull-cup, pustaka, plough, and mrudanga with one hand encircling Durga in a hug. This form is extolled to usher good luck, cure all diseases and destroy all enemies.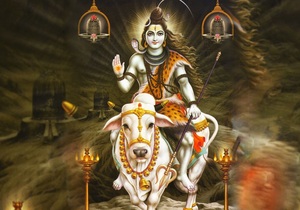 Once upon a time, there used to live a brahmin named Vishwanar who was a great devotee of lord Shiva. Shuchismati was his devoted wife. Shuchismati expressed her desire of having a son just like lord Shiva. Vishwanar went to Kashi to please Lord Shiva by his penance. He worshipped Vishveshwar linga with supreme devotion. Lord Shiva became very pleased by his devotion and he appeared before Vishwanar from the Shivalinga. When Vishwanar expressed his desire, lord Shiva agreed to take birth as his Son.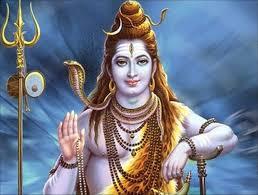 In due course of time, Shuchismati gave birth to a beautiful child. Lord Brahma named the child as Grihapati. When Grihapati attained the age of six, he was proficient in all the Vedas and other sacred texts. When Grihapati attained the age of nine, Narada came and informed Vishwanar that death of Grihapati was imminent because of the evil effects of the planetary combinations. Grihapati then consoled his parents and proceeded towards Kashi to do penance so that the 'death' could be conquered.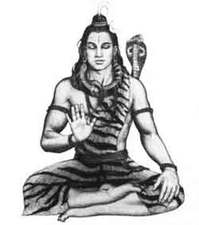 Grihapati commenced his penance at Kashi. Indra arrived there and requested him to demand anything he wished but Grihapati refused. Indra became furious and tried to attack him with his Vajra. Grihapati was very terrified. Right then Lord Shiva appeared and Indra had to retreat from the scene. Lord Shiva blessed Grihapati by saying "even Kaalvajra would not be able to kill you." Grihapati became very pleased. The Shivalinga which he worshipped, later on became famous as 'Agnishwar linga'. Lord Shiva made Grihapati the lord of all the directions.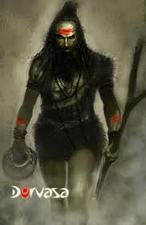 Lord Shiva had taken this avatar on the earth to maintain the discipline of the universe. Durvasa was a great sage known for his short temper. Wherever he went, he was received with great reverence from humans and devas alike. Once Atri, the manasputra of lord Brahma, went to do penance at the bank of the river Nivindhya which flew by the foothills of Trayakshakul mountain as per the instructions of Lord Brahma himself. He commenced a tremendous penance.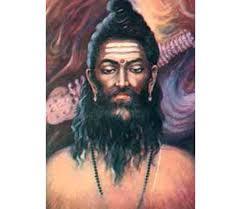 The effects of his penance were such that devastating flames of fire manifested from his head. The fire spread in all the three worlds in no time. The deities were terrified by the death and destruction caused by the fire. Brahma, Vishnu and Shiva went to Atri and blessed him. Later on Atri's wife- Anusuya gave birth to three sons, who in fact were the incarnations of Lord Brahma, Lord Vishnu and Lord Shiva. Lord Brahma incarnation as the Moon, Lord Vishnu as Dutt and Shiva took incarnation as Durvasa.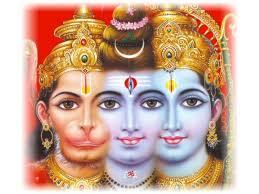 Lord Shiva was so infatuated by the appearance of lord Vishnu in his form of Mohini during Amrit Manthan episode that his semen was released on the ground. This semen was established by the Saptarishis in the womb of Anjani, with the permission of lord Shiva himself. In this way was born the mighty Hanuman.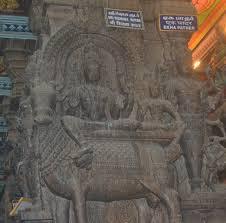 After the churning of the ocean had been accomplished, numerous things had emerged out from the ocean. A tremendous battle was fought between the deities and the demons to have control over the vessel containing Nectar. To distract the attention of the demons from the nectar, lord Vishnu created numerous enchanting beauties. When the demons saw them, they forcibly carried these enchanting beauties to their abode – Patal Lok. After that they again returned to take control of the Nectar.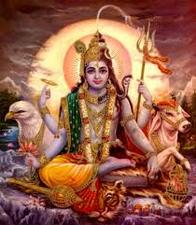 By that time, Vishnu had made the deities drink all the nectar. When the demons came to know about this, they became very furious and attacked the deities. Ultimately the demons got defeated. To save their lives the demon ran towards their abode. Lord Vishnu chased the demons and killed them. However, he got infatuated by those enchanting beauties. During his stay in the Patal Lok, many sons were born to Lord Vishnu, who were very wicked and cruel. These sons of lord Vishnu started tormenting the inhabitants of all the three worlds.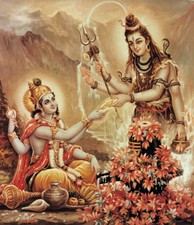 All the deities and the sages went to lord Shiva to take his help. Lord Shiva went to the Patal Lok in the form of a Ox (Vrishabh). He killed all the sons of lord Vishnu with his sharp horns. Seeing the death of his sons, lord Vishnu came forward to fight him. He attacked lord Shiva, but lord Shiva couldn't be conquered. Ultimately lord Vishnu was able to recognise him and returned back to Vishnuloka.
There used to live a bheel named Aahuk on the Arbudachal mountain. His wife was Aahuka and both of them were supreme devotee of lord Shiva. Once, lord Shiva wanting to test their devotion, appeared before them disguised a hermit Yatinath. Aahuk honoured his guest and treated him very well. Lord Shiva then requested him to give shelter for the whole night. Aahuk expressed his inability as he had a very small hut, in which only two people could be accommodate at a time.
But his wife intervened and requested Aahuk to sleep outside the hut with his arms, as it would be inappropriate on their part to miss this chance of proving their hospitality. The hermit, who in reality was lord Shiva slept with Aahuk's wife inside the hut, while Aahuk himself slept outside the hut. Unfortunately Aahuk was killed by a wild animal while he was asleep. In the morning when lord Shiva found that Aahuk had died, his heart was filled with grief.
But Aahuka consoled him and decided to give up her life by jumping into the burning pyre. Right then lord Shiva appeared in his real form and blessed her by saying "In his next birth your husband would take birth in a royal family. He would become Nala and you would be born as Damayanti. I would myself appear in the form of a swan and help both of you to unite." After saying this, lord Shiva established himself as immovable Shivalinga, which later on became famous as Achaleshwar linga.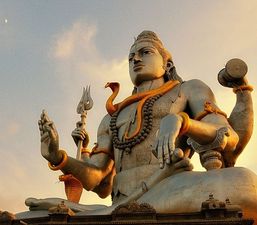 Once there was a King Nabhag who, during his childhood, left his home for 'gurukula' to get education. In his absence his brothers got the wealth of the kingdom distributed among themselves. When Nabhag returned home after the completion of his education, he demanded his share of wealth. His brothers told him that they had forgotten to fix his share as he was absent at the time of distribution. They advised him to go and meet their father.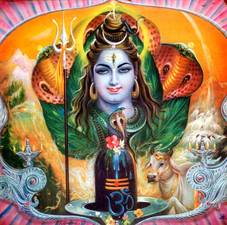 Nabhag went to his father and made the same request. His father advised him to go to sage Angiras who was trying to accomplish a yagya, but was not being able to accomplish it because of his attachment. Nabhag did the same. He went to the place where sage Angiras was performing his yagya. He preached sage Angiras on the virtues of Religiousness. As a result the sage became free from all sorts of attachments and the yagya was successfully accomplished.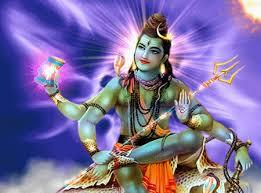 Sage Angiras was very pleased by Nabhag's knowledge of religion. He gave all the remaining wealth of the yagya to Nabhag. Just then lord Shiva arrived there in his incarnation of Krishna Darshan and tried to prevent sage Angiras from donating the wealth to Nabhag, instead he staked his own claim. Nabhag told lord Shiva that, since the wealth was given to him by sage Angiras himself, it naturally belonged to him.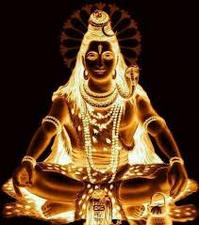 Lord Shiva then sent Nabhag to his father Shradhadev to know about his opinion. Nabhag went to Shradha deva who revealed to him that the person who was staking his claims on the wealth was none other then lord Shiva. He also told him that whatever remained after the accomplishment of the yagya belongs to lord Shiva only. He went back to lord Shiva and worshipped him. Lord Shiva blessed him which helped Nabhag to attain salvation.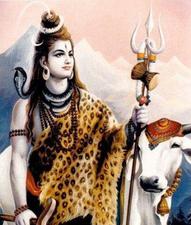 There was a king named Satyarath who ruled over Vidarbha. Once he was attacked by a neighbouring king and got killed in that battle. His wife somehow managed to save her life by hiding in a forest. The queen was pregnant at that time. At the shore of a pond she gave birth to a child. She was feeling thirsty, so she went into the pond to quench her thirst. Unfortunately she was killed by a crocodile who used to live in that pond.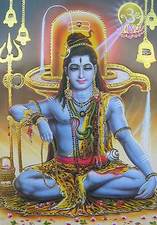 The hungry child started crying- A beggar woman arrived there with her one year old child. Though her heart was filled with compassion seeing the hungry child cry but still she was hesitating to take him in her lap. Right then lord Shiva appeared as a beggar and advised her to bring up the orphan child.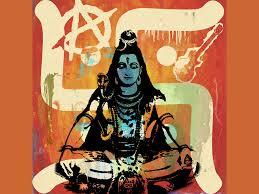 Upamanyu – the son of sage Vyaghrapaad, was brought up in his maternal uncle's home since his childhood. One day Upanyu he was crying for milk when his mother told him that if he wanted milk then he should worship lord Shiva as he only was capable of making the milk available. Upamanyu proceeded towards the Himalaya and started doing penance to please lord Shiva. His penance generated so much of heat that all the three worlds started burning.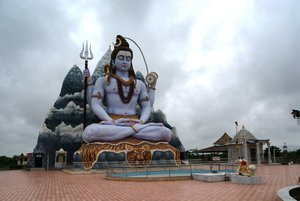 To test his devotion, Lord Shiva and goddess Parvati appeared before him disguised as Indra and Indrani respectively. Both of them told Upamanyu to stop doing penance. They said "We Indra and Indrani are extremely pleased by your devotion. Stop worshipping Shiva. We will fulfill all your desires." Lord Shiva and goddess Parvati did not stop at this. They even cursed Shiva. Upamanyu became very furious and got up to attack the abuser – Indra.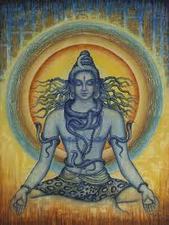 Shiva and Parvati were satisfied by his total dedication and devotion. They revealed their real identity and blessed him. Shiva promised Upamanyu that he would be present in the vicinity of his hermitage along with Parvati forever. Upamanyu returned back to his home and narrated the whole story to his mother who was very pleased. Lord Shiva got the name 'Sureshwar' because he appeared in the guise of Indra.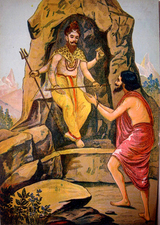 Once, Arjuna was performing a tremendous penance to please lord Shiva. Duryodhan had sent a demon named Mooka to kill Arjuna. Mooka had disguised himself as a boar. Arjuna was engrossed in his meditation, when suddenly his concentration got disturbed by a loud noise. He opened his eyes and saw Mooka being chased by a Kirat. In fact it was none other than Shiva who had appeared in the guise of Kirat. Both Arjuna and Lord Shiva struck the boar with their respective arrows at the same time.
READ MORE AT: