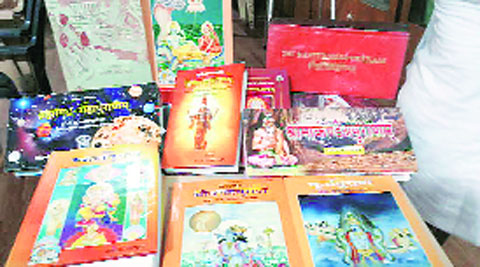 Written by Shyamlal Yadav | New Delhi | August 18, 2014 1:38 am
At office of Sangh-linked ABISY in Delhi. (Shyamlal Yadav)
Apart from a version based on Puranas, Sangh plans history of all dists, tribes
As part of grand preparations for its centenary in 2025, the RSS is working on writing a version of Indian history based on the Puranas. The 10-year project has been dubbed 'Puranantargat Itihaas'.
The Sangh is also planning to put together the history of each one of the over 670 districts in the country, as well as the history of the over 600 tribal communities in India.
An organisation linked to the RSS, the Akhil Bharatiya Itihaas Sankalan Yojna (ABISY), has arranged a workshop for over 100 historians in Palampur (Banaskantha, Gujarat) on August 22-24 for its Puranantargat Itihaas project. The historians called are mostly professors of history in various universities associated with the ABISY and its office-bearers.
The ABISY has also established a Bharatiya Puran Adhyayan Sansthan (Indian Institute of Purana Studies) on the premises of the RSS headquarters at Keshav Kunj in Delhi in this regard.
Balmukund Pande, a Sangh pracharak and the organising secretary of the ABISY, said, "The RSS wants to trace Indian historiography to write and see history in the right perspective. History is just history and the Puranas are the main source of history in India."
The projects were discussed at a meeting of senior RSS leaders last month near Indore.
While the ABISY has been working on Puranantargat Itihaas for the past few years, the project to cover history of districts is a new scheme.
The organisation is planning to tap local historians who can write the history of their districts, providing them all possible help. Said Pande, "I understand it is a tough job but we need such regional and sub-regional history
from the micro level, which is not available. This will be different from the Gazetteers, which are the only prime sources of history in many districts."
The Gujarat conference would be followed up by meetings at the state level to speed up the district project.
As per the ABISY, it is looking at 106 Puranas, arguing that it is wrong to say that there are just 18 of them. These additional "Puranas", it claims, were arranged from different libraries, universities and personal collections in India and other countries.
The Puranas are ancient Hindu texts eulogising deities through stories told by one person to another. They cover creation of the universe to destruction and the genealogies of kings, heroes, sages and demigods.
While most of these "Puranas" are reportedly in Sanskrit, some versions are available in translation in local languages, the ABISY said. For example, the Skanda Purana has been found in full in Bangla. A part of it is recited as Satyanarayan Katha.
Said Pande, "Along with writing Indian history based on the Puranas, we have started indexing over 8.50 lakh shlokas from them. We are working to publish a 100-volume encyclopaedia on the Puranas."
The ABISY was started in 1994 as a frontal organisation of the RSS. Prior to that, it worked under other names in some states.
          Thank you,
Vandemataram,
Yours sevek,
D.C. Nath
(President, Patriots' Forum)
(Former Spl. Director, IB)
9811995693
Source: Patriots' Forum via. WHN Publisher