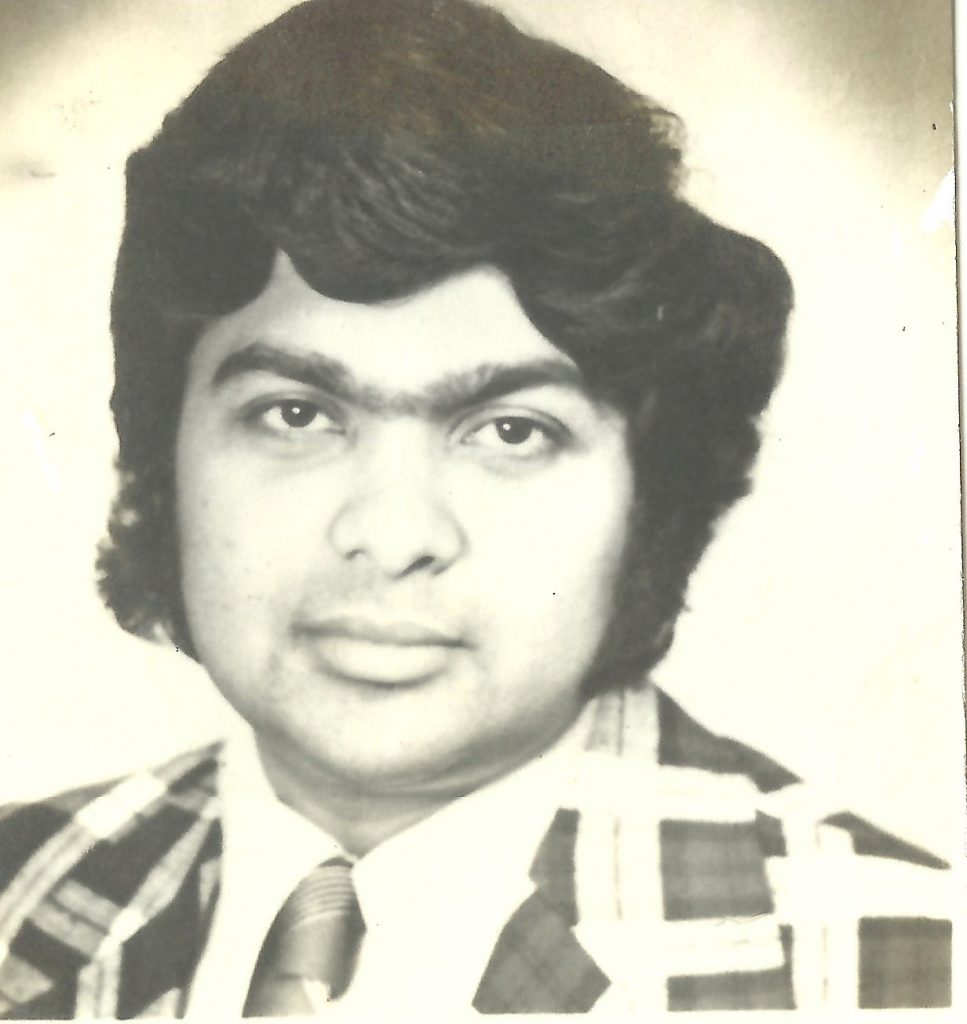 A Tribute to Mahatma Gandhi on His 150 th Birthday, Oct. 2, 2019—GANDHI AND THE INDIAN DIASPORA
(This article was presented at the Diaspora Research Centre—Antar Rashitryia Sahayog Parishad
International Conference to mark the 150 th Birth Anniversary of Mahatma Gandhi, to which I was
specifically selected and invited to participate, New Delhi, India, Sept. 17/18/2019)
By PARAS RAMOUTAR
India's first Prime Minister Pundit Jawaharlal Nehru's epitaph which he composed on Mahatma Gandhi's assassination on January 30, 1948 remains totally relevant and it has become part of world histor literature. Mohandas Karamachand Gandhi was born on October 2, 1869.
Pundit Nehru speaking to a distressed weeping Indian nation, and by extension the world where there are pockets forming part of the Indian diaspora said: "The light has gone out, I said, and yet I was wrong.
For the light that shone in this country was no ordinary light. The light that has illumined this country for many, many years will illuminate this country for many years, and a thousand years later that light will
be seen in this country and the world will see it and it will give solace to innumerable hearts. For that light represented something more than the immediate present, it represented the living, the eternal truths, reminding us of the right path, drawing us from error, taking this ancient country to freedom".
No doubt Pundit Nehru was speaking of the universal man who espoused "SATYAGRAHA" which in Gandhi's words. "The soul of the Satyagraha strategy was active resistance—resistance which found an outlet, not in violence, but in the ACTIVE FORCE of LOVE, FAITH AND SACRIFICE".
Gandhi's moral pillars incorporate: the equality of man, the dignity of the human person, the transcendental nature of the soul of man, the supremacy of the spiritual over the material, the ultimate victory of truth over falsehood, the ultimate defeat of brute force by the all-pervading strength of the inner moral force of man.
These thoughts continue to inspire the Indian diaspora whether it is in the West Indies, Middle East, Europe, Asia, Far East and the Pacific Rim countries, among so many.
Trinidad and Tobago's first Prime Minister, then Premier, in a national broadcast on Gandhi's 90th birthday, Oct. 2, 1959,pointed that his life had a special interest for the West Indies, particularly Trinidad and Tobago. He was a lawyer but had to go to Great Britain to study as indeed was the case of our young people who wanted to study law as well.
Dr Williams noted that the traditions against he fought in South Africa and developed his capacities were in some respects very similar to those existed in Trinidad at the time. "Gandhi's relations with the Indians and the Africans in South Africa should form a chapter of his history…"
Former Indian Prime Minister Atal Bihari Vajpayee, in his address to the Antar-Rashhtriya Sahayog Parishad(ARSPB) in New Delhi in 2000, which was the forerunner parley to today's Bharitya Pravasi Diwas(PBD) noted that there were different forces of history that prompted," our people to leave India and settle abroad. This kind of trans-national movement of people will only accelerate in the increasingly inter-dependent and inter-connected world of the 21 st century"
Vaypayee continued: "The expansion of the Indian diaspora in the new century and new millennium, however, will follow a very different trajectory. In the past, people left India out of distress or some economic compulsion. This will no longer be the case in the future." But there was a different trend of thought when India's first Prime Minister Jawaharlal Nehru made it abundantly clear to all overseas Indians that "India will not stand by them where their interest will clash with local interest."
But Gandhi in his wisdom and spiritual acumen acted in the total and humanitarian interests of the Indian diaspora in such places as South Africa, Kenya, Mauritius, Fiji, Trinidad, Guyana, Suriname, Jamaica, among other places. Even after total abolition in January 1920, Gandhi made it a solemn issue, the cause of the Indian settlers. And in every annual meeting of the Indian National Congress, there were debates and resolutions passed about the conditions of Indians abroad.
Through these interventions, the British Government, the international community and Indians of the diaspora were fully kept informed of the hopes of the Indians overseas, and to inform them they were
not abandoned as Indians in the West Indies. Notwithstanding this epoch, Gandhi received scores of invitations for him visit the West Indies. In October 2002, Gandhi's grand-daughter, Dr Usha Mesthrie
visited Trinidad, and said that Mr. Kuarsingh was one of those who invited him. The pages of the East Indian Weekly edited by C.B.Mathura from 1928 to 1932,reported there were a massive outpourings of praises and support for India's freedom struggle, and as well the continuous flow of invitations for him to come to the West indies.
Because of the heavy pressure with India's freedom struggle, Gandhi did not make the trip, but sent his trusted emissary and confidant, Rev. Charles Freer Andrews in July 1929. Andrews who was known in India as, "Deena Bandhu" (a friend of the poor). In Trinidad, Andrews stayed at the home of James Sooknanan Sammy at Sutton Street, San Fernando. Andrews was fluent in Hindi and was immaculate in kurta pyjama and the easy manner how he mixed with Indians in Debe, Penal and San Fernando, following which he went to Guyana.
Upon his return to India, Andrew wrote a comprehensive report for Gandhi, in which he was very critical of the poor conditions the Indians were working. His contact with Gandhi provided a very strong link with him after that visit and it was no wonder that when Sinanan, Kirpalani, Rameshwar and Seukeran were working on the Indian Centenary Review in 1945, they had ask for a message for the frontispiece, and on April 25, 1945 they received his darshan. Part of his message, Gandhi advised that,
"domiciled Indians", must, "prove worthy of the Motherland". urging the diaspora must by their lives,maintain the name of a great civilization from whence they came. One can deduce from this message that Indians will always be Indians.
The much-touted permanent Mahatma Gandhi Centre for Cultural Co-operation which was inked by the late Indian Prime Ministers Indira Gandh on her visit to this country in October 1968 inked anagreement with Dr Eric Williams is now taking shape. I imagine there are several such institutions across the globe. These pieces of architecture would further enhance and rekindled Gandhi and the Indian society where ever they are built.Even today, there has been no memorial for all those East Indians, which approximates to over one million who left India between 1834 and 1920. However, this was corrected not by the Government of India, nor any quasi-government agencies or any major social or cultural organization. But a grandson of India whose forefathers went to Guyana, Ashook Ramasaran, a
businessman, who resides in New York, in 2011, initiated the Kolkata Memorial which evokes memories of all those who left India.
In an interview, Ramsaran noted that the Memorial is, "a recognition and remembrance of their journeys as Indian indentured labourers for their pioneering spirit, determination, resilience and endurance…"
In 1969, then MP for Caroni East, Hans Hanoomansingh successfully moved a motion in Parliament calling on the Government to recognize Gandhi's Birth Centenary.
There are several busts and statutes of Gandhi sprawled across the land, including in the City of Port-of- Spain, Divali Nagar, and San Fernando Promenade which was constructed on his tragic assassinationin
The late Prime Minister, Dr Eric Williams, whose works and messages of Gandhi were dear to his heart, on his famous Meet-The-People Tour in 1963, insisted that a village in Debe, South Trinidad changed the name from, "Coolie Village" to :"Gandhi Village". On Gandhi's birthday and death anniversary, there are cultural and religious programmes as well as garlanding his statute to mark the occasions.
Over the years, several Indians were decorated with the Pravasi Bharitya Samman Award, the most recent were the National Council of Indian Culture(NCIC), then Prime Minister of Trinidad and Tobago,
Kamla Persad-Bissessar, Winston Dookeran, Guyana Dharmic Sabha and Gura Sekhar Mappul.
Former President of Trinidad and Tobago , Mr. Justice Anthony Aquinas Carmona in delivering the feature address on World Environment Day June 5, invoked the thoughts on Gandhi whom he said criticized people for polluting the rivers and other water bodies and mills and factories for polluting the air with smoke and noise, as he implored them to love simple lives.
-Mahatma Gandhi, a great soul, has left an indelible mark on human history, and the Indian diaspora, indeed the peoples of the Republic Trinidad and Tobago continue to associate and emulate themselves
with the life and work of Gandhi. India, the nation of the birth of Mahatma Gandhi, remains the ancestral home of the diaspora.
-The philosophy and ideology of Gandhi remain a constant source of inspiration to the diaspora as he promotes firm belief in the Supreme Being, deep respect for human dignity, abiding faith in fundamental human rights and freedoms unshakeable commitment to the principles of social justice, high esteem for moral, ethical and spiritual values, unfading trust in freedom and free institutions.
-Gandhi who is regarded as the Father of the Indian Nation, led the fight and dismantled the might British Empire and ultimately ushered Independence for India, and scores of nations around the globe, including India, Pakistan, African countries, Trinidad and Guyana,among several others. Because of Gandhi, there is now the Commonwealth of Nations.
-Gandhi's universal outlook stands out as an inspiration to scores of nations across the globe, and especially in such countries like Trinidad and Tobago, Guyana, Suriname, Canada and even Britain , which propelled them as multi-ethnic and multi-religious communities.-Gandhi's personal life was exemplary in terms of his commitment to spiritual values—truth, tolerance and self-restraint, which all societies strive to uphold and maintain.
-And Gandhi expressed his humble belief and faith in the universality of religions. Diasporic countries practice and respect all religions. Gandhi said: "I do not believe in the exclusive divinity of the Vedas. I believe in the Bible, the Koran. I pray like every good Hindu. I believe that we can all be messengers of God. My firm belief is that He reveals Himself daily to every human being.".
The late Indian Minister of Foreign Affairs, Smt. Sushma Swaraj, speaking at the International Conference , entitled: "Indian Diaspora and Cultural Heritage" said that the Indian diaspora has emerged as, "an important and unique force, making a positive difference in all field of endeavor, from economics to politics."
She continued:" We hold our head high when members of the diaspora are appreciated, recognized, honoured and respected for their outstanding contribution to their respective countries of residence.
The success and prosperity of the diaspora is our asset, as much as a strong India is to the diaspora. We are determined to work closely with the diaspora".
The India diaspora continues to celebrate Indian Arrival Day in their respective countries with great pomp and gaiety as Indians try to relive or reenact the original Arrival Day as they continue to engender an aura of spiritual reconstruction and regeneration. The Indian diaspora in Trinidad and Tobago, and Guyana continue to enrich their societies with the observance of Eid, Divali, Christmas, Baptists, Easter and other religious or cultural festivals.
Just as Prime Minister Narendra Modi successfully got the United Nations General Assembly to declare the International Day of Yoga which has now become a permanent fixture on the calendar, so too, he must seek that same body to ask its member states to include in their school curriculum the works and philosophy of Gandhi as his message remains infinite so that all generations to come would be able to study him and apply his teachings in order to salvage humanity from the abysmal path of disunity, terrorism, war and moral and spiritual decadence.
Additionally, all Indian foreign missions should annual essay/debating contests so that the local populace would research his works in pursuit of applying his teachings to entrench a new world order based on peace, love, truth, international peace and harmony.
The Indian diaspora must not be viewed with scorn as a people whose socio-economic, cultural and
religious affinities do not have origins from some celestial source. WE ARE NOT A TRIBAL PEOPLE.. We must not be seen as turning our backs on the other segments of the society, rather we must continue to encourage the participation of shared values, and we must converse with others to listen, to learn, to understand and to respect their experiences with the view of our role in the national citizenry, Winston Dookeran, ORTT, PBS, who served as acting Prime Minister of Trinidad and Tobago, among several other high positions, and now Professor of Practice at the University of the West Indies summed up Gandhi's life in this way: "His struggle had universal appeal and spread across borders, for it was rooted in the cause of humanity. It came to head with the powers in the political world order, and even in the systems of ideological divide. Gandhi's freedom struggle may have had its theatre in India, but his reach went beyond those shores. As an apostle of peace among nations, he left an indelible ink on the course of world politics and its history, and a reference point in our never ending quest for global
peace".
WITH GANDHI, INDIA IS IN ALL OF US.
Source: World Hindu News (WHN)
Disclaimer: The opinions expressed within this article are the personal opinions of the author. World Hindu News is not responsible for the accuracy, completeness, suitability, or validity of any information on this article. All information is provided on an as-is basis. The information, facts or opinions appearing in the article do not reflect the views of World Hindu News and World Hindu News does not assume any responsibility or liability for the same.