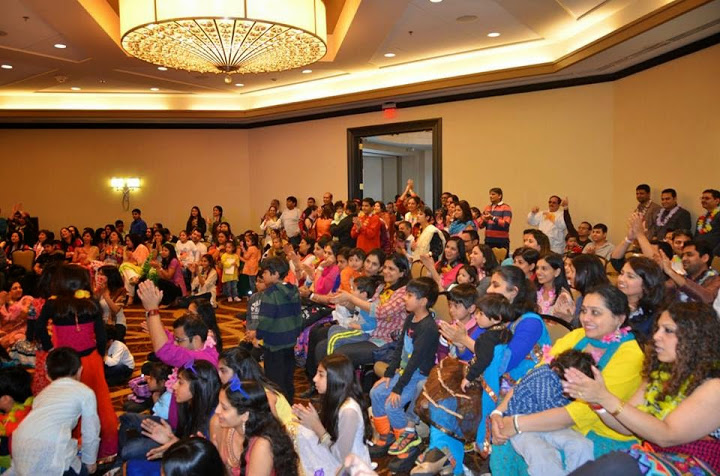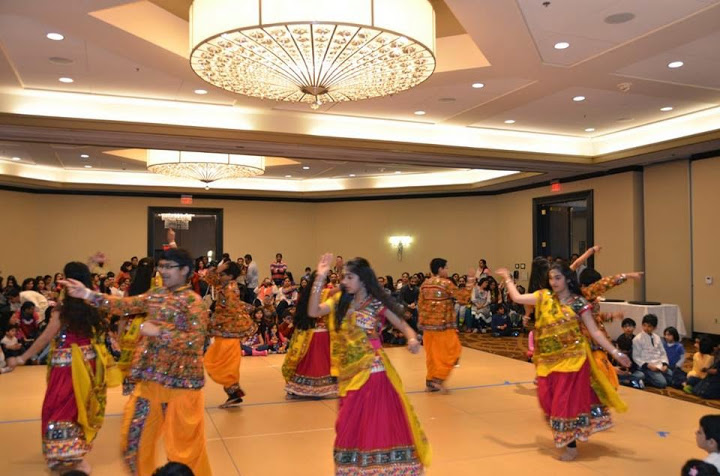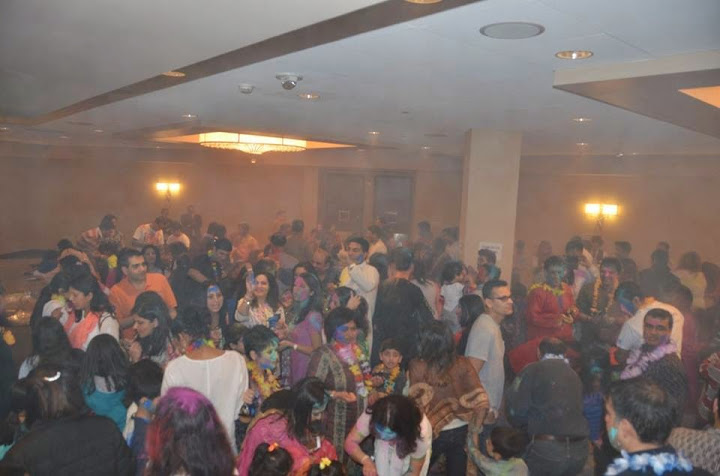 United India Association's Holi Celebration was attended by about 300 people from diverse age groups, ethnicities and geographic areas on Sunday, March 8, from 12-4:00 pm at the Sheraton Needham Hotel in Needham, MA, giving a true feeling of this festival of colors.
The program started with vote of thanks to all those who attended the event from Dr. Neela Gandhi,President of United India Association of New England, known as UIA. She also thanked Mr. Subu Kota for his support, her committee Mr. Kidar Vaid, Anil Sood, Dolly Raja, Surender Kapoor, Seema Arora, Rakashi Chand, Sapna Aggarwal, Parvin K Khetarpal, Raminder Luther, Vikas Sehli, Vibha Sood, and all the SEWA International volunteers Ashwini Garg, Pramod Pandey,Yogesh Rathi and Sachin Shukla who helped with the childrens activities.
The emcees for the cultural program were Dr. Seema Arora and Rakashi Chand. This was followed by a few lines by Kian and Kanav Sahani on why we celebrate Holi,karaoke songs by Janani Sharma (daughter of Narendra and Jyoti Sharma) who was among the top 40 through the auditions of Sa Re Ga Ma Pa Lil' Champs North America who sang the song Rangilo Maro Dholna – from the album Pyaar Ke Geet sung by Shubha Mudgal, which is a very festive and fast paced song and is perfect for dancing and singing along to in the spirit of Holi and colors.
Paresh Motiwala, runner up in Hindi Manch SaReGaMaPa and Boston Sargam, sang his colorful rendition of "Khaike Paan Benareswala" from the movie Don, Preetesh Shrivastava entertained the audience with a comedy piece, and Chetan Mepani sang O Hansini Meri Hansini from movie Dil Vil Pyaar Vyaar.  The dances included Rang Rangilo Gujarat — Bollywood style' from film Ramleela remix and choreographed by Shilpa Thacker and participants were Ayush Thacker, Kavya Anbarasu, Nandha Ravi, Neha Murthy, Raveena Ravi, Siddharth Bharadwaj, Yesha Sharma, Nishita Nayudu and Shraddha Parmar,a blend of folk dance from north,bhangra mixed with bollywood moves by dancing and celebration on a bollywood song – London Thumakta choreographed by Nikita Rao from Bollywood Dance Academy and the performers were Queenal Vrishni, Seema Gupta and Meenakshi Arora. The cultural program ended with a dhamaka performance from Fauj Bhangra led by Cherag Sehli. This led into DJ/Dancing by DJ Massa Mepani who rocked the floor. The mouth watering appetizers, lunch, dessert and thandhai were provided by Masala Art in Needham. The crowd were able to play with holi colors and live dhol and gujiya was distributed at the end of the program. UIANE is a non-profit organization that helps promote cultural events in the New England area.