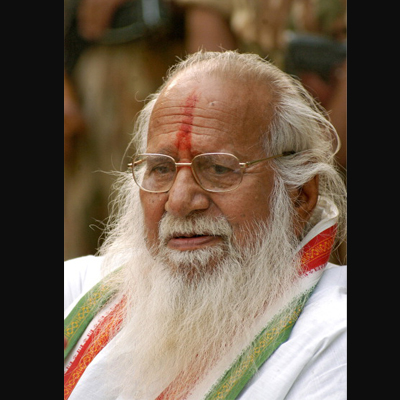 After the demise of Vishwa Hindu Parishad patriarch Acharya Giriraj Kishore, his body was donated to Army College of Medical Sciences in Delhi for education and research purposes after his eyes was donated to All India Institute of Medical Sciences (AIIMS). This was Acharya Giriraj Kishore's last wish.
Acharya Giriraj was a strong proponent of Hindutva. He was one of the leading figures of the Ram Janmabhoomi Andolan. Apart from Ram Janmabhoomi Andolan, Acharya Giriraj fought against fraudulent conversions by Christian missionaries. He spearheaded Goraksha Andolan (anti-cow slaughter movement).
Apart from his fight for Hindu right, Acharya Giriraj Kishore was relentless in his struggle for the cause of social welfare. In fact, he used Hindutva as an instrument for selfless social service. A lifelong bachelor, Acharya Giriraj preached the essence of cultural nationalism. His was a life devoted to the cause of motherland and mankind. He exemplifies 'Manav sewa is madhav sewa' (Service to humanity is service to God). Even after his death, Acharya Giriraj served the mankind having donated his body. His work will inspire the lives and times for generations to come.