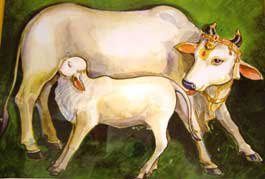 To
1. Mahamahim Shriman Pranab Mukherjee,  The President of India, Rashtrapati Bhavan, New Delhi.
2. Adarneeye  Shriman Narendrabhai Modi, The Prime Minister of India, Parliament House, New Delhi.
3. Sammneeye Shriman Justice R.M. Lodha, The Chief Justice of India, Supreme Court, New Delhi.
Subject:  An appeal to ensure the complete prohibition upon Cow Slaughter abiding by the existing rules and regulation in force in different states in India along with the strict direction of Hon'ble Supreme Court of India.
Sir(s),
1. Under the laws enforced in this land with a wide view to natural justice to all creatures, honoring the Sanatani tradition of venerated  Cow progeny even as non hittable (aghna), respecting  the Cow as Go-Mata in highest esteem in the traditional scriptures, contemplating the importance of Cow progeny in Indian agriculture, health, medicines and economics based upon its blessings upon us and obviously to be humane by resisting the animal cruelty, most of the states have been formulated its own rules and acts in favor of banning Cow Slaughter even in Bakri Idd.

Article 48 of The Constitution Of India says:  The State shall endeavour to organise agriculture and animal husbandry on modern and scientific lines and shall, in particular, take steps for preserving and improving the breeds, and prohibiting the slaughter, of cows and calves and other milch and draught cattle.

But, very unfortunately going to the utter contradiction to the above, in most of the cases Cow progeny are being slaughtered very cruelly in a disgusting gruesome way, sometimes with the help of local administration and politics, only to appease a minority section hurting the majority by violating all the norms so framed by the states very illegally, unreasonably and undemocratically. Though all the Hindu, Sikh, Jain, Buddhists, Arya Samajists  and the  Sanatani and Vedic followers want a total ban on cow slaughter in Bharat, as a matter of humiliation of all Bharat Dharma, the rampant cow slaughter is going on violating all the norms in force.

As an example, the state of West Bengal, now Paschimbanga had given permission in the last year to slaughter Cows in Bakri Idd under the section 12 of the WB Animal Slaughter Control Act 1950, very intrigue-fully going against the verdicts of Hon'ble Calcutta High Court and the Hon'ble Supreme Court of India.

It is a wide known fact that being aggrieved Sri Kedar Nath Brahmachari and 26 others filed a petition against the State of West Bengal and 20 others for which Hon'ble Calcutta High Court passed an order to ban cow slaughter even in Bakar Idd, vide 1982(2) Kokata, HN dated 20.8.1982.

The State of West Bengal filed an appeal in Supreme Court of India against the above order of Calcutta High Court vide CA 6790/1983 – State of West Bengal & Others. –vs– Ashutosh Lahiri & Others. for which the Hon'ble Supreme Court maintained the order of Calcutta High court to prohibit the Cow slaughter in Bakri Idd  as such slaughters being unconstitutional and directed the State to take measures to stop such illegalities.

Despite of that in West Bengal and other States at least 30 lakhs (5 lakhs in West Bengal) healthy, milking, cultivating and capable Cow progeny are slaughtered very unfortunately within a political nexus of Chairman, Sabhapati of Panchayet Samity and the official authorities in various departments including Police Departments.

As aggrieved by the gross violation of the Slaughter Control Act enforced in different States time and again and felt detrimental to the majority Hindu sentiment in general, various forums filled many petitions in the designated Courts for getting justice to stop cruelty upon animal and especially mentionable the petitions filed in the Honb'le Calcutta High Court by Akhil Bharat Krishi Go Seva Sangha, Arya Pratinidhi Sabha, Sri K K Singhania, Sri Abhijit Das & Enamul Haque and others.

In most of the cases the following provisions are being flouted by the cow slaughter rackets rampantly with the help of culpable state authorities indulging in the sins of cow slaughtering.
SOME IMPORTANT SECTIONS OF VIOLATION IN COW SLAUGHTER/ANIMAL CRUELTY/CATTLE TRANSPORT ACT ETC.
(i) "The West Bengal Animal Slaughter Act,1950". Following Sections of said Act are applicable to present case.
Section 4 : Prohibition of slaughter of animals without Certificate.
Section 7 :Penalty for punishment for contravention of any of the provisions of law.
Section 8: Punishment for abatement of offences under the said act.
In other states the relevant provisions for preventing cow slaughter are violated in same way as exampled in the case of West Bengal.
(ii)  There is one Central Act by name The Prevention of Cruelty to Animals Act, 1960. The culprits violate the provisions of said Act. Particularly, (i) Section 11 (1) (a) (d) (e) (f) (h) (i) (k) of The Prevention of Cruelty to Animals act, 1960.  Even overloading of animals amounts to treating of animals cruelly under Section 11 of the Prevention of Cruelty to Animals Act, 1960.
(iii) S.379 of Indian Penal Code : The culprits violates  S.379 of Indian penal code as  it is found during investigation in many cases that, there is theft of cattle.
(iv) The Transport of animals Rules, 1978  is applicable in case of overloading of truck with animals :  Section 98 of the Transport of Animals Rules, 1978 should be strictly adhered to. In case of trucks whose wheelbase is over 142 inches shall not carry more than six cattle without calves or five with calves. In most of  the  cases more than 50 cattle are found in the Truck. Thus there is gross violation of The Transport of Animals Act.
(v) S.429 of Indian Penal Code : The culprits in the cow slaughter rackets violate  S.429 of Indian penal code when it is found during investigation that, there is mischief by killing or maiming cattle etc., of any value or any animal of the value of fifty rupees.
    10. It is also mentionable that the esteemed Islamic Institution "Darul-Uloon-Deoband" also declared a Fatwa describing not mandatory to slaughter cows in Bakri Idd and requested not to do such accordingly. The extract of the Fatwa can be obtained from the news published in Dainik Jagran dt. 13.06.2006.
      11. But unfortunately, the chain of illegal slaughter is in vehemently increasing, killing healthy, capable and milking cows, while the children of the poor families are dying do to malnutrition and don't get a single drop of cow milk in this land of "Gopal". As per report of the UNICEF entitling "World Children Status Report-2008", every day 5000 children are dying in India due to malnutrition.
      12. It is well established that the Cow progeny is the foundation of our agriculture, health, conventional & renewable energy source and the all round development of this Sanatani Land with a highest veneration to Go Mata and Go Palak (Cow Savers). And butchering these very calm and pretty animals hitting the religious sentiments of Hindus which must attract the provisions of Section 153 and 295 of Indian Penal Code.
      13. Again, a Seven Judges Bench in the Honb'le Supreme Court of India gave the verdict in CA No.4937-4940 of 1998 being the case of State of Gujrat & Others Vs. Mirajapur Moti Kureshi Kasab & Others.  [2005/ SCCL.Com-735] propounding the importance of Oxen over the age of sixteen years for their utility in case of agricultural manure and recycling energy production from its dung and urine and consequently prohibited oxen slaughter even over 16 years of age of it.
     14. Cow slaughter is completely prohibited without any discrimination of age or condition in Delhi, Haryana, Punjab, Himachal Pradesh, Jammu & Kashmir, Rajasthan, Madhya Pradesh, Chattishgarh, Bihar, Jharkhand, Uttarakhand, Gujarat etc., but the total prohibition of Holy Cow progeny in the length and breadth of this Holy Land is still awaited within a suitable Constitutional amendment.  On the other hand the violation of existing slaughter prohibitory rules and regulations are inciting the Hindu sentiments by some communal elements finding the loop holes of the police and administrations by the way.
     15. More over the law enforcing agencies, transport regulatory authorities and Border Security Force (mainly BSF in Indo-Bangladesh border) are not seriously doing their duties to check or prevent  illegal cow slaughter. cattle transport and cattle smuggling.
In this context, these are our earnest requests to the effect that:
A. Please maintain and give full protection to the Prohibitory Acts on Cow Slaughter on Bakri Idd this year on Monday, October 6, 2014 to  Tuesday, October 7, 2014 (dates are changeable as per Islamic calendar)  and extend full cooperation and security to all forums to restrain these illegal slaughters in their activities to help the police and administration on spot of occurrence of illegal slaughters in every state, especially in West Bengal.
B. Please form a task force in each level comprising Govt. officials and the related NGOs to restrain illegal cow slaughter in every place, especially in West Bengal. Please stop all illegal Cow markets  for Bakri Idd and ban interstate import-export of cow progeny for slaughter as a mandatory measure.
C. Please apply the provisions of National Security Act (NSA) against the perpetrators for the violation of Animal slaughter Control Acts.
D. Please set a high strategy team for banning all type of Cow progeny slaughter under illegality and to monitor the prohibition and law enforcement through videography in surface and even through helicopter in the disturbed areas with rampant cow slaughtering.
E. Please start legal proceedings against BDO (Block Development Officer) and the Officer-In-Charge of the Police Station of the respective Block and the police station where the cases of illegal cow slaughter may occur violating the existing rules and regulations.
F. Please construct the Cow Rehabilitation Center/shelters (Goshala) in each district to maintain the rescued Cows and Oxen from illegal slaughtering rackets with a coordination of the various "Gosewa Goraksha Sangathan"  (Cow Rehabilitation & Protection Organizations) for a sustainable development of Indian agriculture, health, economy, energy, traditional medicines, ecology, peace and harmony.
Save Cow – Save Nation. 
Vande Go Mataram ! Vande Mataram !! Jai Hind !!!
Sincerely yours,
Upananda Brahmachari,
Editor,
Hindu Existence.