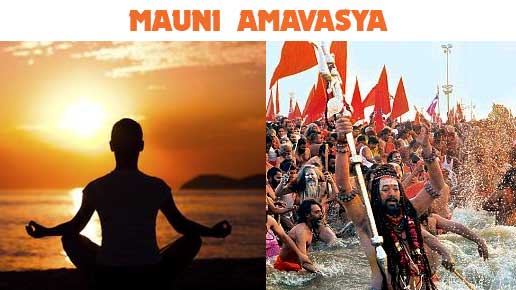 Har, Har Gange' reverberated in the air throughout the day as a large number of devotees headed towards Ganga on Mauni Amavasya at Sangam, Jhunsi and Arail ghats. Mela officials claimed that around 90 lakh pilgrims and devotees had a holy dip at Sangam, Jhunsi and Arail ghats by late afternoon.

They said that the final figure was expected to cross one crore mark by the time the bathing time ends at 10pm as people from neighbouring states of Bihar, Madhya Pradesh and Chhattisgarhwere still arriving.

The Mela police and the Bhoole Bhatke Shivir (lost & found camp) reunited more than 20,740 persons, who somehow got separated from their family members. Officials said that around 250 persons, including women and children were still waiting at 'Bhoole Bhatke Shiver'. The police and volunteers were trying to locate their family members.
The pilgrims and devotees had started arriving in the city since Sunday evening and the numbers swelled to 40-45 lakhs by Monday evening with pilgrims taking shelter in rest rooms, offices, satsang pandals, ashrams and open places. The Mela administration had constructed temporary ghats with barricades at Jhunsi and Arail side of the river for the convenience of pilgrims.

A dip in Ganga on Mauni Amavasya is considered pious and devotees did not leave any stone unturned to earn 'punya' and performed 'puja' and 'yajna' on the occasion. Sunil Mishra, who travelled all the way from Lucknow, said, "A holy dip will help me wash my sins and also earn Maa Ganga's blessings."

The Mela police also heaved a sigh of relief as no untoward incident was reported. The cops were assisted by ATS, STF, QRT and para-military forces in making foolproof security arrangements. SSP Deepak Kumar said that no untoward incident was reported throughout the day. "Additional security arrangements were put in wake of heavy influx of devotees. Crowd was regulated in different parts of the city and diverted on different routes to prevent a chaotic situation."

Devotees flocked all the 15 ghats and volunteers of civil defence and jal police regulated the crowd to avoid chaotic situation. For the convenience of devotees, as many as 450 rest houses and tents near Sangam and Ram Ghat were also set up.