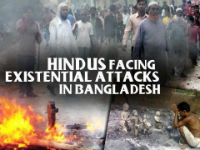 Bangladesh Minority Watch (BDMW) has successfully managed to rescue and return a 11 year old Hindu girl, from a Jihadi who had kidnapped her with the intention of forcibly converting her to Islam.
On 2nd December, 2014 at about 11 a.m., the victim studying in class seven of Bara Basail High School at Agoiljahara Upazila of Barisal District was lured by Mohammad Jashim Gharami and Mohammad Akash Gharami (sons of Motleb Gharami) outside the school compound. The Jihadis claimed that the girl's uncle was waiting for her and that prompted her to leave with them. The news of the kidnapping was published in the National Daily 'Jugantor' on 8th Dec and on other media as early as 5th of December.
The BDMW communicated with Md. Sajjad Hossain- Officer in Charge of Agoiljhara Police station at Barisal, who did not confirm the news of abduction and claimed no person has lodged a First information Report about the kidnapping.
The victim's family claimed that one Mohammad Jashim Gharami of Madaripur District was behind the kidnapping. They also submitted a written request to BDMW to take appropriate measures to rescue the minor girl from the clutches of the Jihadis. Adv. Rabindra Ghosh then contacted the Officer in Charge of Agoiljhara Police station, Local Chairman of the Union Parishad & requested them to take cognizance of the case and take necessary steps to arrest the kidnappers and to rescue the victim girl. Accordingly Md. Sajjad Hossain-Officer in Charge very shortly arrested the jihadis and rescued the victim and took necessary steps to present Mohammad Jashim Gharami and Mohammad Akash Gharami as well as the victim in the court of law. In the meantime necessary medical examination of the victim is going to be completed.
Police took action against the perpetrator after accepting F.I.R. from the mother of the victim as per our request for taking necessary steps for recovery of the victim. ( Agoiljhara PS. Case No. 04/111 dated 12.12.2014 under section 7/30 Women and Children Repression Act,2003) They arrested the kidnappers on 13.12.14 from Madaripur District and rescued the victim on the same night. 
Bangladesh Minority Watch demands :
a) That the minor victim should be handed over to her parents as per law.
b) That the kidnappers should be brought to book as per law of the land
c) That there should not be any discrimination against Minorities of Bangladesh.
d) The minority victim should be protected from forceful conversion by using dubious affidavits or other method.
e) The Police officers responsible for tracing out the victim as per our request should be rewarded.
 Source : BDMW