Join 26 June 2016 – Protest At United Nations For Bangladesh Hindus
WHAT: Please join the Bangladeshi Hindu community of NY/NJ to protest the escalation in deadly violence against non-Muslims in Bangladesh and the growth of ISIS in Bangladesh.
WHERE: United Nations, Ralph Bunche Park, 42nd Street & 1st Ave
WHEN: Starts at 1PM – Sunday, 26th June 2016
The nation of Bangladesh (BD) is a Muslim majority state which borders India to the Northeast, Islam is the state religion of Bangladesh.  While the minority Hindus of Bangladesh have been experiencing intense and deadly persecution for decades, the intensity of violent crimes against non-Muslims has escalated recently with the influx of ISIS elements into the state. In the past weeks, several Hindus have been either murdered, injured or humiliated by Muslim citizens with Islamist motives, and many of these crimes have been claimed by ISIS. The minority non-Muslims of Bangladesh must be protected and the BD government must prevent their state from becoming a haven for ISIS.
INFORMATION: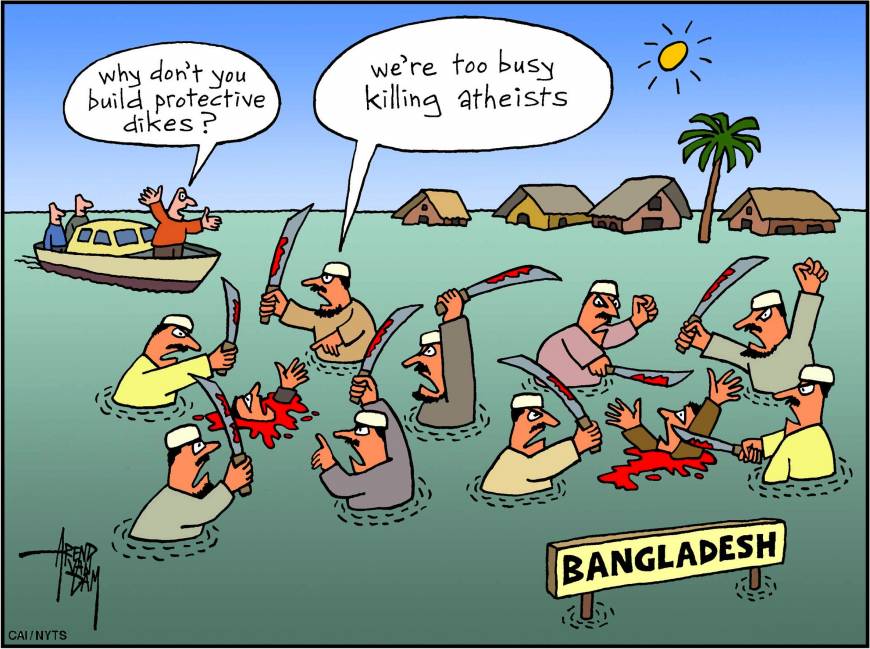 Hindu American Foundation Report on human rights violations in Bangladesh 
http://www.hafsite.org/sites/default/files/HHR_Report_2014_Final.pdf
Hindu Priest Slaughtered In Bangladesh, ISIS claims responsibility
http://www.dnaindia.com/world/report-hindu-priest-slaughtered-in-bangladesh-isis-claims-responsibility-2220967
Tailor hacked to death in Bangladesh; ISIS claims responsibility
http://www.cnn.com/2016/04/30/asia/bangladesh-tailor-hacked-to-death/
Hindu teacher in Bangladesh beaten up, made to do sit-ups by holding ears for 'insulting' Islam
http://zeenews.india.com/news/india/hindu-teacher-in-bangladesh-beaten-up-made-to-do-sit-ups-by-holding-ears-for-insulting-islam-watch_1885233.html
Hindu teacher assaulted in latest attack on Bangladesh minorities
http://www.dnaindia.com/world/report-hindu-teacher-assaulted-in-latest-attack-on-bangladesh-minorities-2224315
Christian hacked to death in latest Bangladesh attack
https://www.yahoo.com/news/christian-hacked-death-latest-bangladesh-attack-072757118.html
Elderly Buddhist monk HACKED to death amid surge of violence in Muslim-majority country
http://www.express.co.uk/news/world/670276/Elderly-Buddhist-monk-HACKED-death-violence-Muslim-majority-Bangladesh

Two gay rights activists hacked to death in Bangladesh; Al-Qaeda affiliate claims responsibility for attack
http://www.aljazeera.com/news/2016/04/people-hacked-death-bangladesh-capital-160425141155758.html