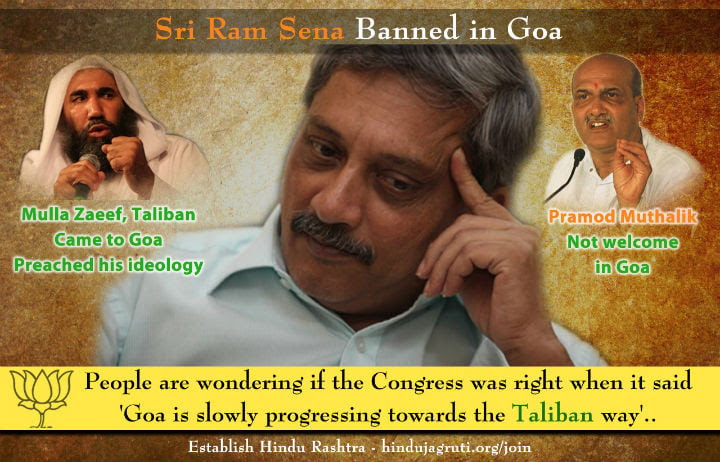 PORVORIM: The Goa government has banned the Hindu right wing Shri Ram Sena from entering the state, chief minister Manohar Parrikar told the state legislative assembly late Wednesday evening.

"I had asked police to prepare a report and it was sent to the collector to ban the entry of Shri Ram Sena in the state. We have banned Shri Ram Sena," Parrikar said.

In June Shri Ram Sena chief Pramod Mutalik had announced his plan to set up a branch of the sena in the state in September.
This had led to the tourism industry, women's organizations, literary personalities and performing artistes demanding that the BJP government ban the sena from entering Goa. The fear was that the violence witnessed in Mangalore against women in pubs and night clubs some years ago might be repeated in Goa.

Responding to a query from Fatorda MLA Vijai Sardesai on whether the government had banned the sena following opposition demands, Parrikar said Shri Ram Sena has been banned because Mutalik had announced his plans to enter the state.

He said there was an outcry when he had not banned the sena but now there is no one complimenting the government for banning the outfit.

Mutalik had earlier expressed his desire to curb Goa's "western culture of clubs and pubs". For the past two years he has been talking of setting up a branch of the sena in Goa. His latest announcement of opening a Goa branch had come in June during the all-India Hindu convention held at Ramnathi, Ponda.

The Shri Ram Sena has been making news in the state in the past few months. Recently, Goa police had refused to register a complaint filed by Congress spokesman Durgadas Kamat against Mutalik for allegedly making an inflammatory speech during his visit to the state last year.

Earlier this month, the sena had called for a ban on the tiatr (Konkani drama) Akantwadi Goent Naka (Goa doesn't need terrorists) and arrest of its director Tousif Shaikh, alleging that Mutalik was portrayed as a terrorist in the tiatr.

This is not the first time the Shri Ram Sena has been banned in Goa. Some years back, former home minister Ravi Naik of the Congress government, had also banned its entry into the state.