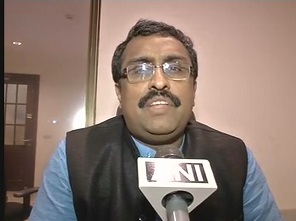 New Delhi, Nov.9 (ANI): The Bharatiya Janata Party (BJP) on Sunday condemned the arrest of Rashtriya Swayamsevak Sangh (RSS) cadres during their annual founder's day procession in Chennai, adding that the action by the Tamil Nadu government and state police was 'uncalled for'.
"The Tamil Nadu government's action of arresting of the RSS cadres during a peaceful procession is highly reprehensible. Trying to intimidate patriotic and democratic forces is highly objectionable. We strongly condemn the actions of the government and police," BJP general secretary Ram Madhav told ANI here.
"They had the court's permit in their favour. The action of the police and the government is uncalled for and it is an utter violation of the court order, it is against the law," he added.
Earlier, RSS had approached the Madras High Court, seeking a direction to permit its annual founder's day procession in seven cities across Tamil Nadu after authorities had denied the same.
The High Court then directed the police on Friday to grant permission to the RSS to take out a procession and hold a public meeting on their founder's day on November 9.