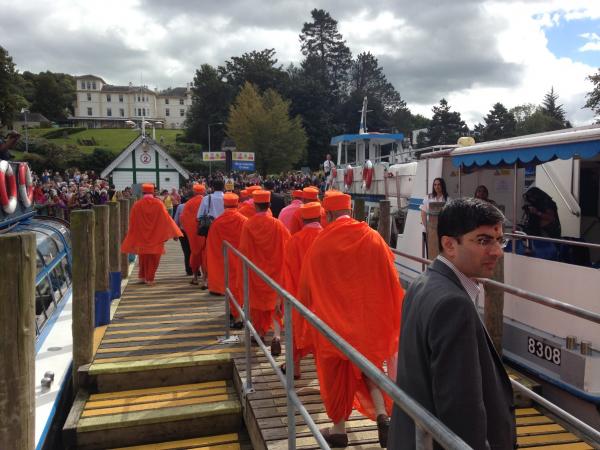 WINDERMERE Lake Cruises welcomed 500 visitors on Sunday as followers of Swaminarayan Hinduism commemorated their spiritual leader with a parade through Bowness and sailing on the lake.
The event was led by Swaminarayan's leader, His Divine Holiness Acharya Swamishree Purushottampriyadasji Maharaj, alongside hundreds of tangerine-robed Hindu monks and 50 pipers in a procession to the Glebe and on board four vessels.
Bowness has special connections with the faith, dating back to August 1979 when its founder Jeevanpran Shree Muktajeevan Swamibapa sailed onboard one of Windermere Lake Cruises' modern launches, Cumbria I, on his final day on earth.
He held his final congregation alongside the lake on a spot which has since been coined as Swamibapa Hill, and for the past 35 years, devotees have returned to the Lake District in an annual celebration of peace and co-operation.
Managing Director of Windermere Lake Cruises, Nigel Wilkinson, said, "Windermere has many different meanings for different people and it was an honour to welcome these special guests back to Bowness.
"As well as being a fantastic spectacle, it was great to see visitors and locals come together on the lakeshore in a  celebration of peace,  harmony and community cohesion."