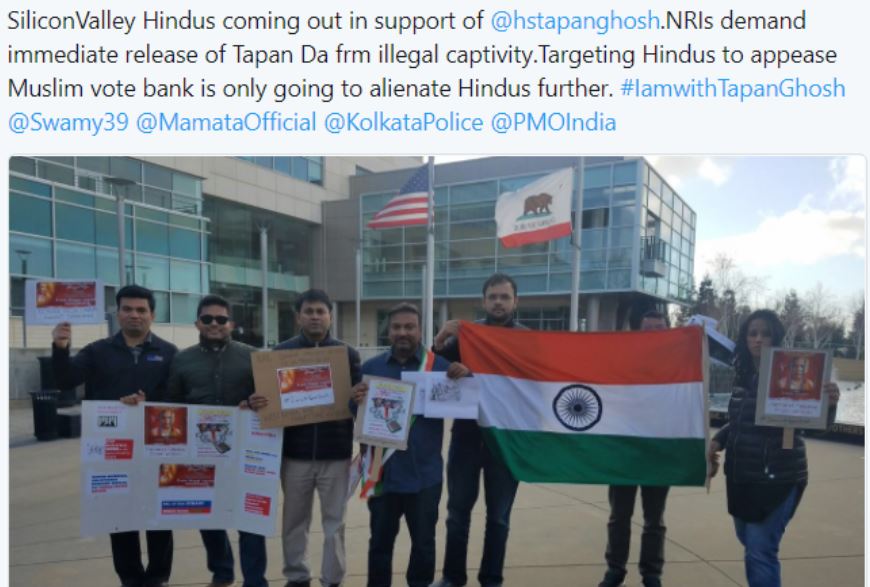 SILICON VALLEY, US
On 14th of February, 2018, Hindu Samhati organized one of the largest pro-Israel rally in history in Kolkata, India.  Along with it Tapan Ghosh, founder of Hindu Samhati laid the road-map for the Hindu Samhati movement by welcoming a 14 member Muslim family into the Hindu fold. In the rally journalists provoked Hindu Samhati volunteers leading to a  minor scuffle. 
Tapan Ghosh, or Tapan da as he is refereed to with respect, the fire-brand Hindu leader from India founded Hindu Samhati in 2008. Hindu Samhati is a non-political organization which serves the poorest of poor Hindus in the Eastern part of India plagued by Jihadist violence. The event was to mark 10 year anniversary  of its foundation. Tapan da was far away from the scene of the incident. However the Mamata Banerjee administration arrested Tapan da and put him in prison immediately after the event. Five days have passed and Tapan da's illegal detention continues.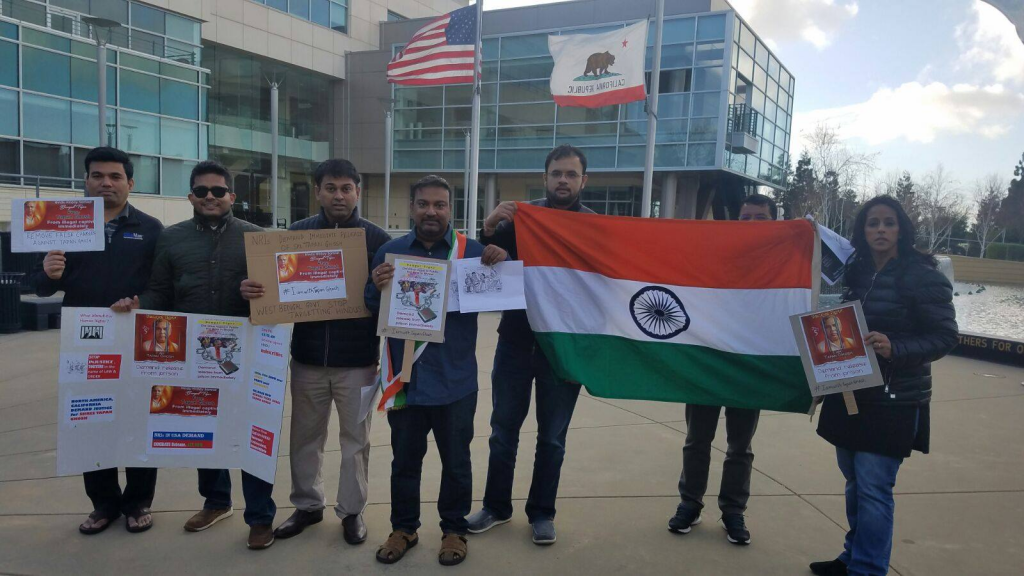 Hindus in America and worldwide, to express their concern has decided to organize a series of rallies till Tapan da is released. The first such rallies have started with the Silicon Valley. The techies in San Francisco took out a march and assembled in front of City Council,Milpitas. Banner saying "Down with Anti Hindu Mamta Banerjee", "Mamata Banerjee Release Tapan Ghosh", "Free Tapan hosh,Save Democracy" resonated in the air. Judhajit Sen Mazumdar , one of the rally organizers said , "This is political arrest. Hindus in America are deeply concerned over the safety of Tapan da. We demand the Mamata Banerjee administration to release him immediately."
More such rallies in the coming days are expected in different cities in US , New York, Washington DC, Dallas, Houston and Connecticut as well as in different parts of the world. The rally supporters called upon the Chief Minister of the State, Mamata Bannerjee to free Tapan Ghosh immediately. They also urged Prime Minister Narendra Modi and Home Minister Rajnath Singh to ensure the safety of Tapan Ghosh. 
65 years ago another firebrand Hindu leader from Bengal Dr. Shyamaprasad Mukherjee was arrested and  allegedly poisoned in prison.  Rallyists feared for the safety of Tapan Ghosh, who may meet the same fate. 
SOURCE: JOYDEEP DEY @ WHN NETWORK