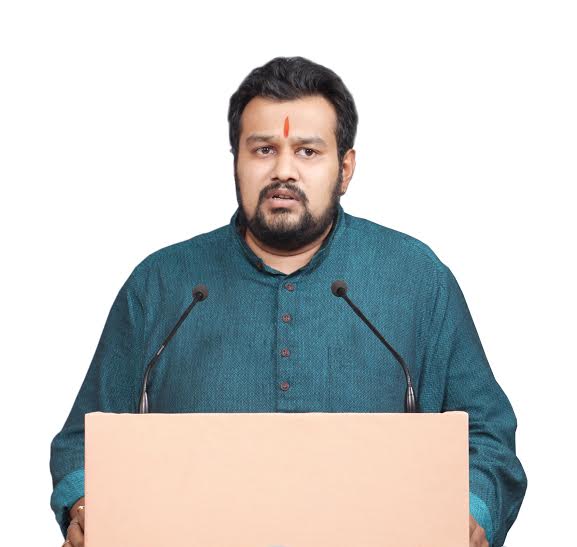 II Jayatu Jayatu Hindurashtram II
Date : 20.06.2016
To,
The Editor/Chief Reporter
PRESS NOTE
Second day of the 5th All India Hindu Convention
O Hindus, social revolution is essential for the 'Hindu Nation' ! – Adv. Sanjiv Punalekar
Ramnathi (Goa) 20 June – In the evening session of the first day and first session of second day of the 5th All India Hindu Convention, many dignitaries presented their views. The Secretary of the Hindu Vidhidnya Parishad Adv. Sanjiv Punalekar said, "Forcreating awareness about establishing the 'Hindu Nation', not much time is at our disposal. In such a situation, instead of limiting the fight on the issues such as cow protection, Love jihad etc., it is essentialalso to fight for social problems being faced by Hindus. Today, every citizen is beset with corruption and exploitation practised at Government level. It is necessary to begin legal struggle by uniting victimised people. These very people will unite and establish the 'Hindu Nation' in the future. In the social revolution, efforts will be made to improve more and more the prevalent corrupted system". Adv. Punalekar appealed to get active by getting united against the undesirable
attitudes in the fields of health, educations, Government offices etc.
In the Judicial system of the 'Hindu Nation', justice will be equal for all ! –Adv. Vishnushankar Jain, 'Hindu Front For Justice' Lucknow (Uttar Pradesh)
Adv. Vishnushankar Jain of 'Hindu Front For Justice' from Lucknow spoke on the subject of 'The effective role to be played at the Judicial level for protection of Dharma.' While speaking on the subject, he said that today the use of Clause No 19 of the IPC is being changed to suit the convenience of an individual. Mr. Kamalesh Tiwari has been arrested under National Security Act for having made statements that hurt the religious sentiment of Muslims and imprisoned unlawfully for the past 7 months; however, Azam Khan and Akbaruddin Owaisi are not being arrested after having hurt the religious sentiments of Hindus, and they have been granted anticipatory bail too. Today, some advocates plead that 'the original draft of the Constitution cannot be changed relying on Kesavananda Bharathi case. In reality, the conclusion was drawn by just one among the 13 Judges of that case. Such issues are cunningly used to
keep the Hindus in the dark. This falsehood in the Judicial system will be avoided in the 'Hindu Nation' and there will be equal justice for all.
Mr. Sunil Ghanvat, the State Organiser of the HinduJanjagruti Samiti gave the gathering as an account of the agitations that are being staged along with like-minded organisations and the success attained. Ms. Pratiksha Korgaonkar, the State Organiser of Ranaragini, the women's wing of Hindu Janjagruti Samiti narrated her experiences during the agitations.
Yours Truly,
Ramesh Shinde, National Spokesperson, Hindu Janajagruti Samiti
Source: World Hindu News (WHN)