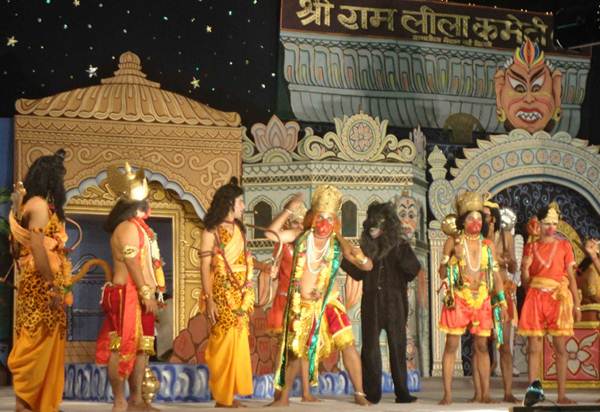 NEW DELHI, INDIA, October 2, 2014 (Times of India): Ramlilas in Delhi have come of age. The traditional Ramlilas, where the story evolved through several days of performances, have given way to modern shows presented by professional actors and trained choreographers. Even modern equipment is used in the shows to catch the audience's interest.
Connaught Place's Central Park has come alive with unique enactment of the Ramayana by the Indian Revival Group, a professional dance group. Open to all in the heart of CP, hundreds queued up to see the Ramlila show, which uses theatrical and dance techniques to captivate the audience. The show is unique because classical dance forms are being used in the performances. 
"We want to promote our country's rich cultural heritage and we have embraced so many dance and theatrical techniques in our show, it will be a new experience for the audience," said Papiha Desai, the chief choreographer. The show spanning two hours and 15 minutes sees about 30 dancers performing in front of the live audience. 
In Shriram Bhartiya Kala Kendra, organizers for the first time are using animations as part of their annual Ramlila show. "Some of the important scenes from the Ramayana which we cannot show on stage are being done through animations, for which we are using special projectors. The audience will get to see scenes like Hanuman flying to Lanka, the epic fight between Ram and Ravan, burning of Lanka, Ram crossing the bridge to Lanka and his final return to Ayodhya after defeating Ravan will come alive through projections," said director and vice-chairperson Shobha Deepak Singh.