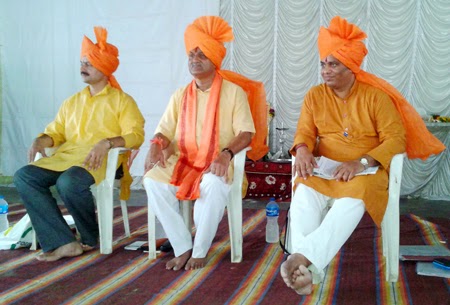 Nipani (Dist. Belgaum, Karnataka) – 'We need to understand the purpose behind unification. Unification should be used for protecting God, nation and Dharma. An effective and active unification of Hindu youth should be created to stop attacks through terrorism, corruption, love jihad, conversions, cow-slaughter; through government and so-called progressive people', said Shri. Pramod Mutalik, the national President of Sriram Sena in his guidance during one-day conference held by Sriram Sena at Akkamaradevi Kalyan Mandap, Nipani on 29th September on the topic of 'Hindu Dharma- Itihas Abhyas (study of history of Hindu Dharma)'. Shri. Ramesh Shinde, the national spokesperson of Hindu Janajagruti Samiti and advocate Chetan Manerikar of Hindu Vidhidnya Parishad also gave guidance to participants. The conference was started with lighting of lamp, followed with garlanding statue of Chhatrapati Shivaji Maharaj and picture of Bharatmata. Shri. Mutalik said further, "We must pay attention to protect Hindu young women from love jihad. We must now worship even weapons; along with science. Let us all celebrate 'Vijaya Dashami' by performing 'puja' of our weapons."
Like Chhatrapati Shivaji Maharaj, awe should be created amongst our enemies ! – Ramesh Shinde
Shri. Ramesh Shinde said, "From big gathering assembled here for today's program, it is obvious that 'Hindutva' has been awakened in Nipani. 'Kala Pahad' had demolished the temples of Somanath and Jagannath for 17 times; but on 18th time, people of Odisha sought help from Chhatrapati Shivaji Maharaj for protection from Kala Pahad. Chhatrapati Shivaji Maharaj sent a message from Pune that Somanath Mandir and Jagannath Mandir were under his protection; therefore, Kala Pahad did not dare to go there again. Such awe needs to be created among enemies of this nation and Dharma.
Advocate Chetan Manerikar gave guidance on how to overcome legal problems while doing organizational work; how to face problems in registering complaints with police; how to take legal help for prevention of cow-slaughter and how to undertake any movement in lawful manner, in democratic regime etc. Discussion session was held in the afternoon.
The program was compered by Shri. Rajesh Avate and was attended by several activists of Sriram Sena like advocate Shri. Nilesh Hatti, Shri. Sagar Lokhande, Shri. Basavraj Kalyani, Shri. Shriniwas Chavan, Shri. Uttam Kamate, Shri. Raju Koparde, Shri. Ajit Patil, Shri. Avinash Shah, Shri. Amol Suryavanshi; besides large number of youth from Akkol, Nanganur, Pattanadi, Mamdapur, Jattrat, Gaikanwadi, Kodani, Yamagarni and Nipani etc.