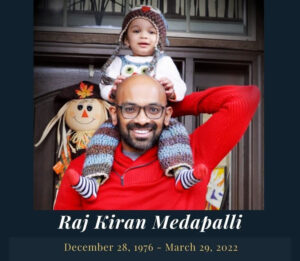 Ekal Volunteer From Kansas Passes Away
We are heartbroken by the loss of our Ekal KC Chapter co-founder, Dr. Raj Kiran Medapalli.
It is with our deepest sorrow that we inform you of the passing of our very own, Dr. Raj Kiran Medapalli.
Dr. Medapalli was one of the founders of the Ekal Vidyalaya Chapter in Kansas City. He was always a true inspiration to the Kansas volunteer team, with his humility, grace, and altruism in every situation. Dr. Medapalli helped the chapter flourish in Kansas City, all with his signature smiling face and kind personality. He truly loved Ekal Vidyalaya, and always went the extra mile to ensure that the message of Ekal spread throughout the community.
Dr. Medapalli was a wonderful friend, father, husband, and son and we will all miss him dearly. Thank you, Dr. Medapalli, for your years of service.