Gaurang G. Vaishnav is national convener for Global Indians for Bharat Vikas (GIBV) program and a senior Hindu American leader. He has four decades of social service experience with a premier Hindu organization in a responsible volunteer executive position. He fought against dictatorial emergency rule of Indira Gandhi under Indians for Democracy (IFD) 1975-77. He is a retired mechanical engineer, an entrepreneur and a IT specialist.  His interests include reading, research, mentor ship and authorship.  One can follow his blog at: http://vicharak1.wordpress.com
By Rahul Chandra | 07-12-2014 | Boston, MA, USA
What does GIBV stands for?
Global Indians for Bharat Vikas (GIBV)
http://www.gibv.org
How development of Bharat is directly proportional to Hon. Narendra Modi? 
Modi Ji has become synonymous with development, progress and hope throughout Bharat over last few years.
When did this program start?
GIBV was launched in September, 2013 but idea to create a platform for long term development of India was in place since last few years.
Is GIBV a global platform or US based?
GIBV is a global platform. Majority of our volunteers are from USA but we have presence in many other countries.
Does GIBV have volunteers from outside USA?
Canada, Germany, UK, Japan and UAE had several volunteers helping with the campaign. NRIs residing in, New Zealand, Ukraine, Tunisia and Singapore also helped out. Besides, GIBV had a large contingent of volunteers in Bharat.
Did Hon. Narendra Modi receive weekly/monthly updates on GIBV program?
Dr. Mahesh Mehta, President of GIBV was in constant touch with Modi ji, and was giving him the feedback he got from GIBV volunteers.
What programs supporting Hon. Narendra Modi election victory were implemented under GIBV?
1) We began with Reference Calling program starting in Jan 2014, under which the volunteers would call their friends and relatives in support of BJP/NDA anywhere in Bharat.
2) Closer to elections, we formed state specific teams which focuses on specific "swing" constituencies in each phase of elections.
3) We also sent mass voice SMS messages in some constituencies, and helped with various social media campaigns on Facebook, Twitter and WhatsApp.
4) We took out newspaper and radio/TV ads in support of Modi ji in USA and in Bharat, and participated in various discussions on radio/TV channels to put forth our point.
5) 20 of these in Houston alone. We served over a thousand cups of tea on a "Holi" mela event in Houston. We made it a point to attend all major events in major cities to create awareness and spread the message.
6) Close to a hundred GIBV volunteers went to Bharat to campaign for various lengths – from two weeks to five weeks.
Which program was major success and saw maximum participation?
Reference Calling and Constituency specific calling were great hits. Our volunteers made close to 1.9 million calls connecting anywhere between 6 to 9 voters directly.
On GIBV website, I see reference calling program, what is reference calling program?
We use the analogy of a wedding in the family. Just as we would list all the invitees before getting the invitation cards printed (so that we do not leave out any relative/friend), we came up with lists of all our "references" – be it relatives/friends/family doctors/ lawyers/teachers… We called all these "references" in support of Modi ji/BJP/NDA.
How many reference calls were made via GIBV program from USA to India?
A total of 1.9 million calls were made – roughly 60% of those were reference calls and remaining "cold calls" to specific "swing" constituencies.
What reaction from Indian citizens did you see via. reference calling program?
The recipients were generally thrilled to get a call from NRIs living in USA and other countries and made special effort to appreciate the concern we had about helping Bharat with the "course correction" in this election. They would sometime call us back on our numbers, just to verify whether what we were saying about calling from USA was true or not.
Many of GIBV members visited India during 2014 Lok Sabha campaign,; which cities they visited?
The main cities in 15 different states where the volunteers campaigned were: Ahmedabad, Vadodara, Anand, Kheda,Rajkot, Junagadh, Bhavnagar,Delhi, Mumbai, Chandigarh, Hyderabad, Agra, Mathura, Varanasi,Amethi, Lucknow, Bareilly, Bangalore, Bidar, Udupi, Panjim, Trivandrum, Kasargode, Kolkatta, Asansol, Ranchi, Patna, Raipur, Bhopal, Indore, Chennai, Haridwar, Hazaribagh, Jaipur, Pune, and Gauwahati. It was not only the cities but these volunteers campaigned in hundreds of interior villages surrounding these cities and towns.
Did GIBV focus on individual constituencies during 2014 Indian election?
Yes – for each phase we would identify a few constituencies within 15 states we extensively helped with.
Which Indian states were of maximum focus?
We focused more on these 15 states – Uttar Pradesh, West Bengal, Bihar, Jharkhand, Kerala, Delhi, Gujarat, Madhya Pradesh, Rajasthan, Assam, Karnataka, Andhra Pradesh, Haryana, Tamil Nadu and Maharashtra.
Did GIBV team encounter any challenges during this program?
Yes – we were always running against aggressive "internal" milestones, for the number of people to call, for radio/TV stations to cover, for the events on the ground to attend to spread the message.
How many volunteers across US are enrolled in GIBV program?
Close to 770 from USA
Any estimate on number of international volunteer registration?
Close to 100 from all other countries put together.
What were five most important factors for GIBV in seeking support for Hon. Narendra Modi led NDA? 
1) Strong, Decisive leadership
2) Effective Governance
3) Clean, corruption free image
4) Proven capabilities based on Gujarat Model
5) India First approach in all the aspects, leading to "Sab ka Saath, Sab ka Vikas."
Did GIBV engage local, regional and international media in spreading message?
Yes – we took out ads in ethnic papers in USA and in Bharat, and on radio/TV channels in USA.
How was response of US media to GIBV programs and press releases?
US mainstream media also took positive notice (eventually) and the press releases in Indian media in USA generated tremendous excitement and debate (there were many AAP supporters who were always willing to engage us in debates based on our press releases).
Were there weekly conferences/meeting during program progression?
Yes – we ran the entire campaign in a very professional manner. Each week, we would have our weekly review meetings to go over what we achieved and where we needed to fine-tune our strategies. On the national level, we had weekly conference calls to track the progress.
Now since Hon. Narendra Modi is PM of India, do you foresee future for GIBV program or Mission 2014 is complete?
GIBV has energized a group of well-meaning NRIs and we intend to keep the group intact to help with "any and all" ideas for helping Bharat develop as a super power, in every sense of the word. GIBV has been established with long term all-encompassing development of Bharat. Mission 2014 was the immediate goal which has been accomplished. Real work starts now. We intend to help India in two specific ways. One, we will provide feedback and expert advice to the Indian government in areas such as rural development, sanitation, energy, environment, judicial and police reforms, biotech, technology, etc. We have put together a team of NRI experts, well known in their respective field for this purpose. Other volunteers will help with research, data compilation and report generation. Two, we are in process of creating ground level volunteer teams in several states of India and our NRI volunteers will adopt constituencies to work with for next five years. We will monitor and mentor our counterparts in Bharat so that they become effective link between the constituents and their representatives.
__________________________________________________________________________________________________________________________________________________________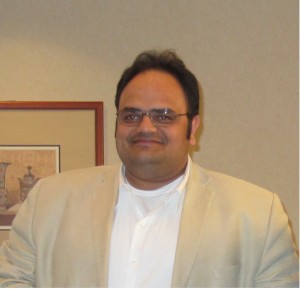 Rahul Chandra is a member of World Hindu News editorial board and a freelancer journalist. For more than a decade, he has been reporting, developing and publishing news & press releases for US and Indian Hindu organizations. Previously he has been an editor at World Hindu Council of America (VHPA) quarterly publication – Hindu Newsletter and Hindu Digest based out of Washington, DC. He has also been a media and PR coordinator for Hindu Congress of America (HMSA) at Texas in 2011. His interests include Hindu philosophies, Hindu human rights and Hindu social & political empowerment related journalism. He has also reported and published news on plight of Pakistani Hindu refugee in India and Bhutanese Hindu refugees in US. You can contact him for interview opportunities at rahul.chandra@worldhindunews.com. 
—————————————————————————————————————————————————————————————————————————————————————————
Disclaimer: The opinions expressed within this interview are the opinions of the interviewee on behalf of his / her organization. World Hindu News  is not responsible for the accuracy, completeness, suitability, or validity of any information on this article. All information is provided on an as-is basis. The information, facts or opinions appearing in the article do not reflect the views of World Hindu News and World Hindu News. does not assume any responsibility or liability for the same.