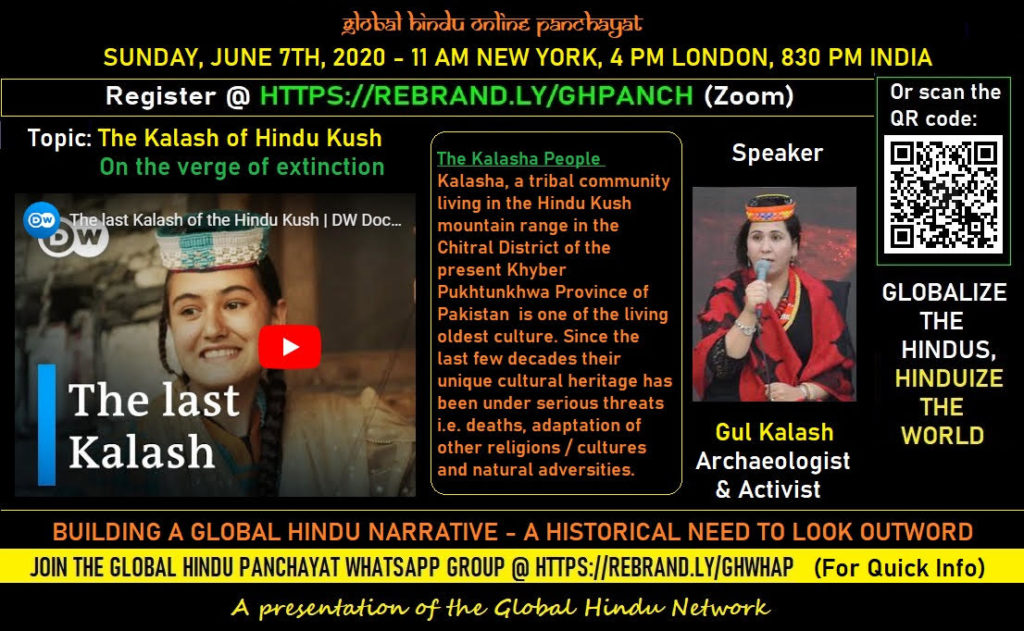 Global Hindu – Online Panchayat
[  https://rebrand.ly/ghpanch  <– Registration Required ]
Day: Sunday, 7 June 2020
Time: 8 AM U.S. Pacific, 11 AM U.S. Eastern, 4 PM U.K., 8:30 PM India, 9 PM Dhaka
Topic: "The Kalash of Hindu Kush – On the verge of extinction"

About the Talk: Kalasha, a tribal community living in the Hindu Kush mountain range in the Chitral District of the present Khyber Pukhtunkhwa Province of Pakistan  is one of the living oldest culture. According to some sources Kalashas shifted to Chitral from Afghanistan in 2nd century CE.  Since the last few decades their unique cultural heritage has been under serious threats i.e. deaths, adaptation of other religions / cultures and natural adversities.
Speaker: Gul Kalash, Archaelogist & Activist
Subscribe to the Global Hindu YouTube Channel: https://rebrand.ly/ghtube
[ Join the Global Hindu Online Panchayat at: https://rebrand.ly/ghwhap (Whatsapp) ]
---
Source: World Hindu News