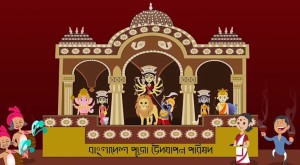 Bangladesh Puja Udjapon Parishad directed the Hindu devotees to finish the rituals of immersing the idol of Godess Durga on 'Bijoya Dashami' by 9pm on October 11.
The Puja Udjapon Parishad made the call at a press conference at Dhakeshwari National Temple in the capital on Friday.
Taposh Kumar Pal, general secretary of the committee, asked devotees to start the immersion rally by early evening and finish the rituals by 9pm on the day.
He, however, said festivities on a public scale will start on October 7 and end with the immersion of the idol of Durga, the goddess of divine power and energy, on 'Bijoya Dashami' on October 11.
The general secretary of the committee came up with this order as Ashura, a festival of Muslims to commemorate the martyrdom of the grandson of Prophet Muhammad (SM), is slated on October 12.
Taposh Kumar said, "To preserve the sanctity of both the festivals, we have called our wing organisations across the country to make such arrangements."
Durga Puja, the largest religious festival of the Bengali Hindus, began with 'Mohaloya' which was also observed on Friday.