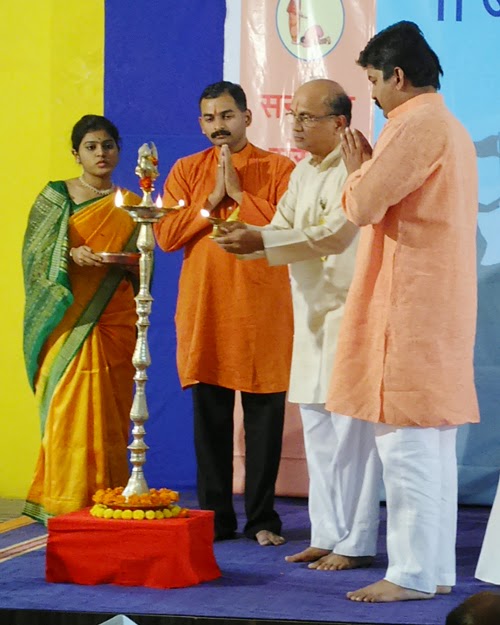 From left Shri. Vikram Bhave, Shri. Ajay Sambhus while lightining the lamp and Shri. Narendra Surve
Panvel (Maharashtra) : On 26th December, Hindu Dharmajagruti Sabha was held by Hindu Janajagruti Samiti (HJS) at Padaghe, Panvel taluka in which there was acclamation of Hindu unity.
300 devout Hindus from surrounding areas attended the sabha that was addressed by Shri. Vikram Bhave of Hindu Vidhidnya Parishada, Shri. Narendra Surve of Sanatan Sanstha and Shri. Ajay Sambhus of HJS. Shri. Bhave said that it was a matter of shame that in a country, where Hindus are in majority, Hindus are accused and detained in jail for 6 years for bomb blast in Malegaon.
Shri. Surve said that Hindus should not convert for a day for celebration of New Year on 31st December. Shri. Sambhus said, "Congress ruled over India for 67 years and governed this country in demonic way in the name of democracy. Now, if we want to survive, Hindu Rashtra is the only alternative. Hindu Rashtra cannot be established under democratic governance. Hindus will have to struggle hard for the same.
Padagha's Sarpanch Shri. Ashok Bhoir, former Sarpanch Shri. Krushnaseth Patil , Rajaram Bhoir, H. B. P. Nathamaharaj Patil, H.B.P. Nathamaharaj Mhatre, H.B.P. Jagannath Joshi, H.B.P. Shankunath Bhoir, H.B.P. Natha Sudam and Shri. Kaluram Kadav were present on the occasion.
Source : Dainik Sanatan Prabhat