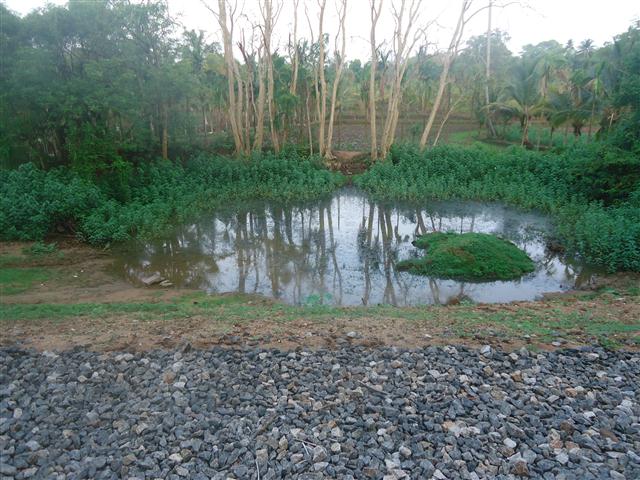 The view from my window at "Lake View Home Stay" in Kerala
One is writing this from one's homestay at Karripode village in interior Kerala. Kerala is a paradise for all those who love the sun, the mountains and the greenery. My homestay is a short walk away from the nearest motorable road, on the banks of one of the many lakes that dot the interiors of Palakkad. Pooram is one of several tourist attractions at Kerala in the months of April and May. One can find old wooden houses and narrow streets with antique shops and several traditional vegetarian restaurants overlooking the rice-fields. The 70 km. drive from Palakkad to Thrissur takes you through several shades of green. All along the way, we see rice fields waiting for twhe next monsoon rains.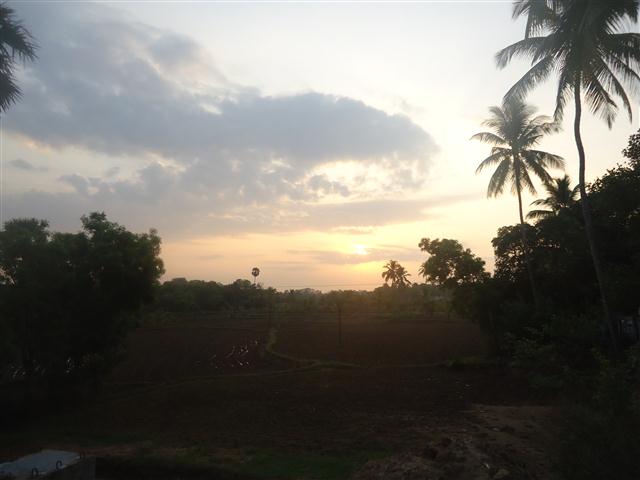 Sunrise at "Lakeview Homestay"
One has just returned after a close encounter with nature at Thrissur in Kerala State. Thrissur is a 120 minute drive away from Karripode. Thrissur is more famously known as the home of Vadakunathan and Thiruvambady temples, which have an annual festival every May, featuring thirty temple elephants and divine music (panchavadyam and elanjithara melam). The dieties from twelve temples near Thrissur are carried on elephant back accompanied to the sound of music from its present abode to the Vadakkunathan temple at Trichur for a grand display of colourful umbrellas. Two groups of 15 elephants, each from a different temple gather facing each other and display colourful umbrellas on elephant back, in synchronicity for an unbelievable display of team-work and discipline.
The decorated temple elephants at Thrissur Pooram
Each elephant is accompanied by five musicians on foot, who play panchavadyam (five musical instruments played in tandem). The musical performance goes on for three hours as three hundrerd musicians gather together under the Elanjithara tree inside the Vaddakunathan temple. This musical performance is known as elanjithara melam. The thirty elephants, covered in gold headgear and colourful umbrellas, rest under the giant trees that surround this temple enjoying a snack of bananas and coconut leaves, as the music reaches a crescendo. The musical beat is binaural. This ancient temple is around 600 years old and one can see several five hundred year old trees located around this beautiful temple whose architecture is no different from the traditional houses of Kerala.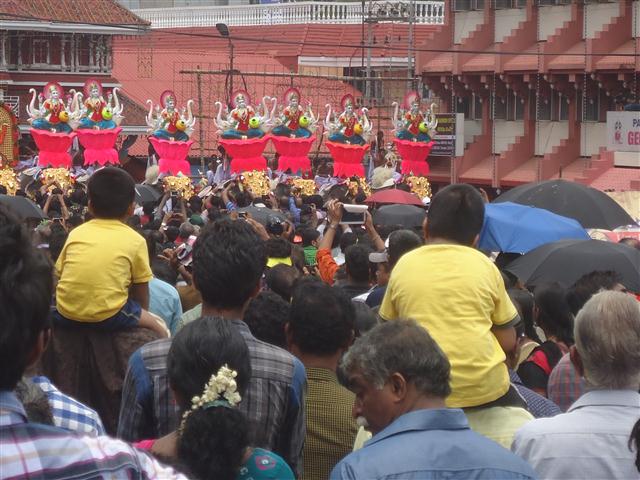 The display of Goddess Lakshmi at Thrissur Pooram
The elephant procession moves in an orderly line followed by hundreds of locals, visitors and tourists on foot. It is indeed a pleasure seeing the elephants line up before the parade and then slowly move in a procession to the main temple to return the mother goddess to her sanctuary.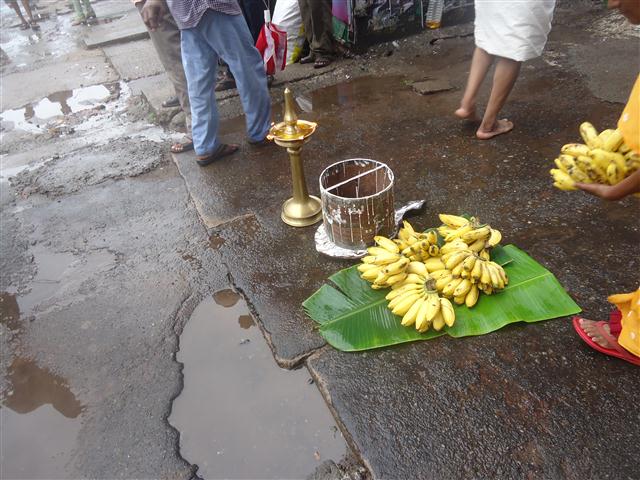 Locals welcome the elephants with bananas and rice.
Thrissur is decorated with colourful flowers, plantain leaves, coconut leaves and brass lamps. Every house celebrates Thrissur Pooram by setting up impromptu roadside stalls which sell everything from fresh lime juice to watermelon salads to idlis and doshas. Each elephant is served a platter of bananas, coconut leaves, water melons and coconuts by local residents all along the way to the temple.
Under a 500 year old tree at Vadakkunathan temple
The pooram is a three day event and starts at 7:00 a.m. and concludes at 11:00 p.m. on each day.The music performance goes on from 2 p.m. to 5 p.m. on the first day and is incredibly addictive with the sound of the trumpets, flutes and cymbals
At the Handicrafts exhibition
Karripode is a small village located in the interiors of Kerala, away from the hustle and bustle of modern life. One wakes up in the morning to the sweet songs of the hundrerds of colourful birds that are perched on the giant trees that surround one's heavenly abode.
Closer view of the Mother Goddess seated on the decorated elephants
Karripode, in Kerala situated in the border with Tamil Nadu is a sanctuary for the Malabar Hornbill and several other colourful birds. This extraordinary area gets partly inundated by about 2 feet of water in the monsoon months (July-September).
The colourful vegan lunch at Palakkad
Where to eat?
Lots of small restaurants serving Malayali vegetarian cuisine dot Pallakad. Freshly steamed vegetables with spices, cooked in coconut milk, with hot freshly steamed idlis are available at most roadside dhabas. The food at the high profile hotels is only for the gastronomically adventurous who like greasy food. Vegans can opt for fresh tropical fruits including water-melons, papayas, tender coconuts and bananas which are available at the local market. Vegans should stick to rice, sambhar, vegetable stew qith coconut milk and sauted cabbage with lentils and avoid items like avial and mango curry, which contain animal products. All items shown in the photograph above are perfectly vegan selected from a traditional Kerala meal called sadya.