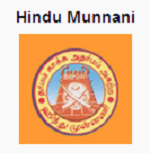 Chennai city police have arrested a key suspect in the murder of the Hindu Munnani leader KPS Suresh Kumar at Ambattur Industrial Estate on June 18 this year. Police narrowed down on the suspect from a hideout in Thudiyalur near Coimbatore on Thursday.

The arrested suspect, 'Kutti' Ghulam alias Ghulam Ahmed, was nabbed by a special police team from Chennai and immediately taken to Chennai in a separate vehicle.

Chennai police have launched a hunt for four more suspects involved in the same murder. Police have solved the case by apprehending six accused including Syed Ali Nawaz and Mohammad Shamiullah. They had earlier arrested three others including Quidbuddin and Khaja Mohammad who had helped and harboured the accused after killing Suresh Kumar .
Ghulam will be remanded to judicial custody after being produced before the magistrate court in Ambattur on Friday. Suresh Kumar was killed for his inflammatory speeches about Muslim prophet Mohammad in the public meetings.

Tamil Nadu police have heightened security for targeted Hindu leaders, BJP, RSS and VHP cadres in the state. They have been assigned with a personal security officer. There were about 15 community related murders reported in the state including the BJP leader 'auditor' V Ramesh in Salem and RSS activist S Vellaiyappan in Vellore.
Source: The Times of India