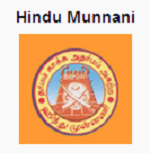 A threatening letter was received at the Hindu Munnani office in nearby Pollachi, police said today.
The Hindu Munnani office has received the letter, written in Tamil and began "in the name of Allah", but further content was not legible.
It mentioned the names of Jagan,Veerappan and Srinivasan, the leader of the organisation in Pollachi, they said.
Srinivasan has already been provided police protection, as part of security for all the front ranking leaders of various Hindu outfits across the district, police said.
Investigations are on to find out the source of the letter, which a bore thumb impression, creating anxiety in the area, they added.