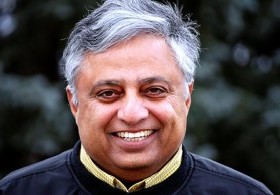 Princeton University has opened its first Hindu prayer area, providing permanent space for a temple for goddess Saraswati, musical instruments, books, private and guided-meditation and worship.
Located on the campus at Green Hall, it will be available daily to undergraduate and graduate students and faculty.
Hindu statesman Rajan Zed, an Indian immigrant and Hindu cleric who had been asking for a permanent and exclusive prayer room at the university, has commended Princeton for responding to the requirements of its Hindu students.
Zed, who is president of Universal Society of Hinduism, said in a statement that it was a "step in the right direction" in view of presence of a substantial number of Hindu students at Princeton, as it was important to meet the spiritual needs of these students, for rituals, quiet reflection, festivals and spiritual exercise, which will help in their personal growth."
Zed thanked Princeton President Christopher L. Eisgruber and its board chair Kathryn A. Hall for the university's positive response.