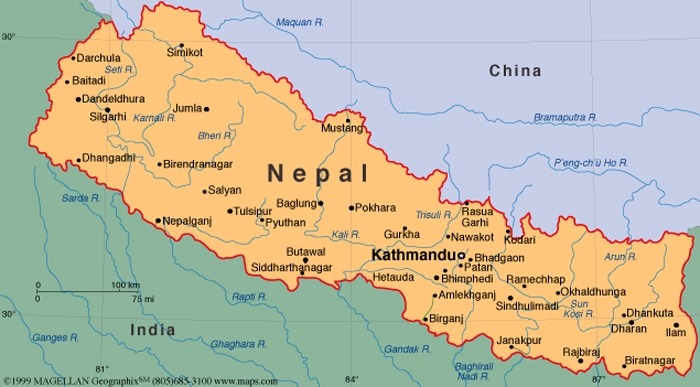 KATHMANDU, NOV 07 – All the office bearers and a majority of Central Working Committee (CWC) members of the Nepali Congress gave a cold response to the Revival of Nepal as a Hindu State campaign launched by an NC faction led by Khum Bahadur Khadka, the former home minister jailed on corruption charges.
Despite formal invite from the campaign coordination committee, no office bearer of the party attended the formal launching of the campaign held at Nepal Academy on Thursday. Only half a dozen CWC members and eight lawmakers—mainly from Dang, the home district of Khadka–showed up at the function. However, there was a sizeable presence of former ministers, lawmakers, NC central members and cadres from various parts of the country.
Addressing the ceremony, a majority of campaigners said revival of Nepal as a Hindu state would be a binding force among the Nepalis. The campaign was launched under the NC banner. Speakers spent most of their time attacking Christian preachers who "lured thousands of Nepalis with money into conversion".
Citing that the Christian population in Nepal reached 1.4 percent in 2011 from 0.4 percent in 2001, they said it was possible to do that by spending hundreds of millions to buy poor Hindus and Buddhists.
"It's part of religious imperialism of the Western world," charged former NC Chief Whip Laxman Prasad Ghimire, co-coordinator of the campaign. While 81 countries in the world can be Christian states and 51 Muslim, he said, Nepal with three fourths Hindu believers could well be a Hindu state.
Stating that secularism was neither a part of the 12-point understanding nor the popular demand of the 2006 uprising, the NC leaders blamed it on the "conspiracy by the Christian world".
Mitha Ram Bishwokarma, former parliamentarian, said even MPs were kept in the dark about the plan to declare secularism. Khadka said the protest would continue unless Hindu state is enshrined as an irrevocable clause of the constitution. He warned of protests from the first week of December if the parties did not address the demand.
A 25-member committee formed last week has been made 51-member and a 501-strong central mobilisation committee has been set up to take the programme across the country.