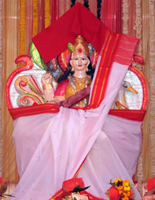 Panchami or Basant Panchami is celebrated every year on the fifth day of Hindi month of Magha. Vasant means Springs and hence this day also marks the start of Spring season.
On this auspicious day, Hindus worship their Goddess Saraswati, the Goddess of knowledge, music, art and culture. Statue or photo of Saraswati wearing a white dress and seated on a lotus or a peacock is worshipped.
Like every part of the country, capital Delhi is also busy is celebrating Vasant Panchami. In states of Bihar, Jharkhand and Bengal, a magnificent Puja is organized on this day with thousands of people participating in the rituals.
Students, educational institutions seek the blessings of mother goddess so that they can attain enlightenment through knowledge in their chosen field.
Generally, Brahmins carry out Puja in temples, institutes and homes and then they are offered food and people seek their blessing.
The day is also considered auspicious for starting new business ventures.
Devotees also take a holy dip on sacred River Ganges, Yamuna, Bhramputra and Narmada.
Kesar Halwa made from flour, sugar, nuts, and cardamom powder is also prepared on this day and distribute among children, Pandits and people as Prasad.
In Punjab, the festival is known as Basant Panchmi.
Yellow color plays an important role in Vasant Panchami and is related to the bloom of mustard flowers. Indian women wearing yellow garments worship Godess Saraswati.