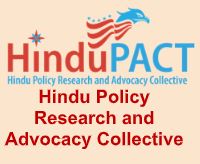 Hindu Policy Research and Advocacy Collective (HinduPACT), an initiative of World Hindu Council of America (VHPA) and  Global Kashmiri Pandit Diaspora (GKPD) co-hosted members of the Kashmiri and Afghan Diaspora communities on Capitol Hill in an event titled "Kashmir: Moving Forward in a Dangerous Zone," on July 29, 2021 to kick off the two-week initiative – #KashmirForward. The event coincided with the historic visit to India by US Secretary of State Anthony Blinken, who held consultations with Prime Minister Narendra Modi and Foreign Minister S. Jaishankar.
Congressional staffers, NGO leaders, and media personalities heard first-hand accounts of the detrimental impacts of terrorism felt in the region, due solely to the growing presence of radical Islamist occupiers supported by Pakistan's military and intelligence apparatus.
Not all was doom and gloom. The event primarily commemorated the second anniversary of the removal of the temporary provisions of Article 370 and 35A, dating back to 1954. This monumental act of Parliament on August 5, 2019, led by Prime Minister Narendra Modi, enabled the Government of India to apply the full scope of its Constitution to the entirety of the country for the first time since the founding of the modern-day Republic.
For the first time in India's almost 75 years of existence, the people of Jammu and Kashmir have the right to free and compulsory education. This action upheld equal-opportunity employment to members of the LGBTQ+ community. The repeal of Article 370, opened up the ability of all women, irrespective of their ethnic background, equal inheritance rights in marriage, as is guaranteed by the Constitution of India, in the rest of the country.
This action thus guaranteed equal rights to all citizens of India while freeing the state from the clutches of terrorist warlords. It finally empowered the poorest and marginalized sections of society (namely minority non-Muslim communities) in the state with job restitution and whistleblower protection, which they had been long been denied.
Over the past two years there has been a 40% decrease in cases of terror attacks in Jammu and Kashmir. Speakers at the event provided their real-life experiences to contrast this with the situation in the broader region, as the conflict between the US-backed government of Afghanistan and the Pakistan-supported Taliban has escalated dramatically after our withdrawal just in the last two weeks.
There was a flurry of social media activity as the event progressed under the hashtag #KashmirForward, with members of the audience, popular influencers, and the Kashmiri and Afghan diaspora communities posting about the event and their own lived experiences.
---
Source: World Hindu News