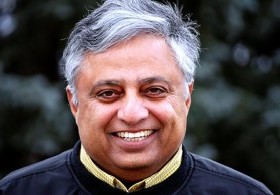 Hindu community has expressed urgent need of a Hindu temple in Swindon in South West England.
Distinguished Hindu statesman Rajan Zed, in a statement in Nevada today, stressed that a Hindu temple was urgently needed for the spiritual needs of about 20,000 Hindus of the area, who had to visit London (about 80 miles) and Birmingham (around 84 miles) for worship services in the absence of any Hindu temple.
Zed, who is President of Universal Society of Hinduism, urged the British Hindu community to come forward to help the locals who were trying to raise a temple. Swindon Borough Council lead by Mayor Teresa Page should also contribute towards it so that its Hindu citizens also had their own worship place like other major religions and thus feel included, Zed added.
A registered charity, Swindon Hindu Temple Trust, has reportedly been formed to build Hindu Temple and Cultural Centre in Swindon to meet the religious, cultural and social needs of the community.
Objectives of the Temple, once established, besides worship services, will also include promotion of Hinduism and its doctrines, organizing cultural activities and religious events, performing religious rites, providing a meeting place for area Hindus, conducting Hindu religious studies and discourses and educational programs, be a medium for social interaction among people in wider community, doing charity, etc.; reports indicate.
Currently, the Trust is reportedly raising funds and organizes monthly Bhajan-Kirtan followed by community dinner at area community centers. It is conducting the "religious ceremony of the Divine Marriage of the Supreme Lord" on March 15 at Punjabi Community Centre and Hindus from all over South West England and Wales are expected to attend this unique ceremony.
Rajan Zed commended efforts of the leaders and the community involved in realizing Hindu Temple and Cultural Centre in Swindon. Zed pointed out that it was important to pass on Hindu spirituality, concepts and traditions to coming generations amidst so many distractions in the consumerist society and hoped that this upcoming Temple complex would help in this direction. Zed stressed that instead of running after materialism; we should focus on inner search and realization of Self and work towards achieving moksh (liberation), which was the goal of Hinduism.
Prominent people associated with Swindon, known for annual Swindon Mela and the birthplace of rock band XTC; include golfer David Howell, actresses Diana Dors and Billie Piper, and artist Antony Micallef.
Hinduism, oldest and third largest religion of the world, has about one billion adherents.
Source: WHN Media Network