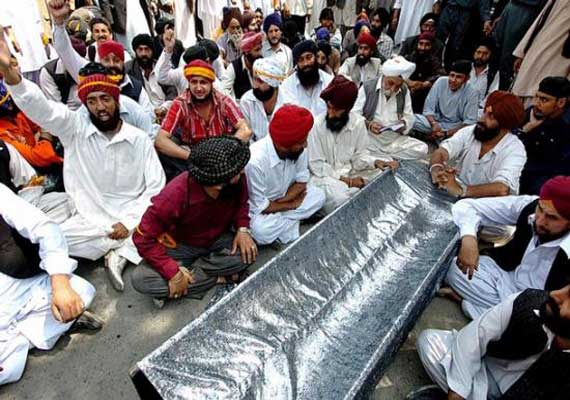 New Delhi: Despite having successful Presidential election in Afghanistan, democracy and right of equality is still a distant dream for around 200 Hindus and Sikhs families living in various parts of Afghanistan. 
Day by day the life is becoming hell for these people whose ancestors had connection with Indian land. 
In such a scenario most of these people want to flee from Afghanistan at the earliest and settle down in India but due to tough Visa and other legalities their life has become miserable. 
The land that is now called Afghanistan was once an important part of Hindu or Vedic world. 
For example, it is quite well known that "Gandhar" of Mahabharata fame, the kingdom of Shakuni is modern day "Kandahar". 
Several historians believe that the Vedas may have been at least partly composed in what is now Afghanistan. 
The Hindu Shahi dynasty ruled Afghanistan until the 10th century AD, when they were finally conquered by Muslim invaders who they had been fending off for around three centuries.
But today Hindus and Sikhs here feel they have been treated "like a football" between India and Afghanistan, as they hope the Indian government will bail them out.
We take you to Kapoor families in Kabul who had to flee overnight from Kandhar due to atrocities by Taliban.
Last year these four families consisting 3 Hindus and one Sikh had to take shelter in a Temple in Kabul after the incidence of attacks by the Taliban. 
Their houses were burnt and they all were forced to leave Kandhar overnight to save their lives. 
Since last one decade such incidences are common with Hindus and Sikhs living in here. Due to which the Indians living here are fleeing overnight. According to these people "Life is a Big Pain" for them in Afghanistan.  
Future of these small kids is confined as none of them is able to visit school due to social discrimination and they all are caged in small rooms along with their parents. 
According to the parents of these kids none of them can move out as there is always a fear of kidnapping or forceful Islamic conversion. 
Most of them want to come to settle down in India and they do try to visit India on Visa but as soon as their visa expires they all are forced to leave India and sent back to Afghanistan. 
They all have common complaint that Indian government despite having very good relations with Afghanistan has failed in safeguarding the interest of Indian origin people. 
May be around two hundred years ago Indians settled here for doing business and also ruled the economy but today situation is just reverse. 
Of the estimated 50,000 Hindus and Sikhs living in Afghanistan 10 years ago, but today most have left.