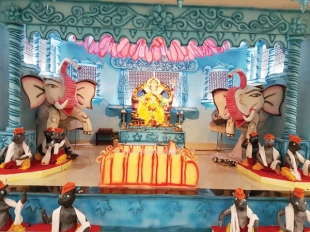 PANJIM: Ganesh Chaturthi celebrations began in the State on Monday, as Hindu families across Goa began praying to Lord Ganesh for luck and prosperity.
Ganesh Chaturthi is the most favourite festival of Hindus in Goa and chants of "Ganpati Bappa Morya", reverberated in every town and village across the state.
The festival is being celebrated across the State with pomp and fervour. Modak, the favourite delicacy of Lord Ganesh, is prepared on a large scale during the festival and the same is distributed among the people. 
A large number of devotees thronged the temples across the state to take part in the celebrations.
Many families also prepare nevryo, coconut ladoo, besan ladoo, sabudana ladoo, boondi ladoo, rava ladoo or puran poli as nivedhyam. 
Apart from sweets, the other popular recipes, which are prepared during Chaturthi are varan-rice, batata bhaji and wheat pooris.
Unlike the celebrations in Maharashtra, the Ganesh puja in Goa is a homely affair; it's more of a family celebration.
Traditional musical instruments like taso take up a centre stage as families get together to sing the aartis, which are performed twice a day.
Apart from family celebrations, many people were seen at the Sarvajanik Ganesh Utsav across Goa in large numbers, singing and chanting "Ganpati Bappa Morya".
"Ganesh Chaturthi is the much awaited festivals for kids, as it is the only time when all the family members come together to celebrate the festival with joy," said Meeta Samant.
"I love Ganesh festival, as it is the only time we can enjoy with cousins together by dancing and by lighting fireworks," said an 11-year-old Raunak Naik.
The Panjim municipal market on Monday afternoon witnessed a huge rush as kids were seen purchasing fireworks.
Besides celebrations and performing pujas at homes, the Sarvajanik Ganesh Utsav across Goa will witness many events and competitions during the festive season.