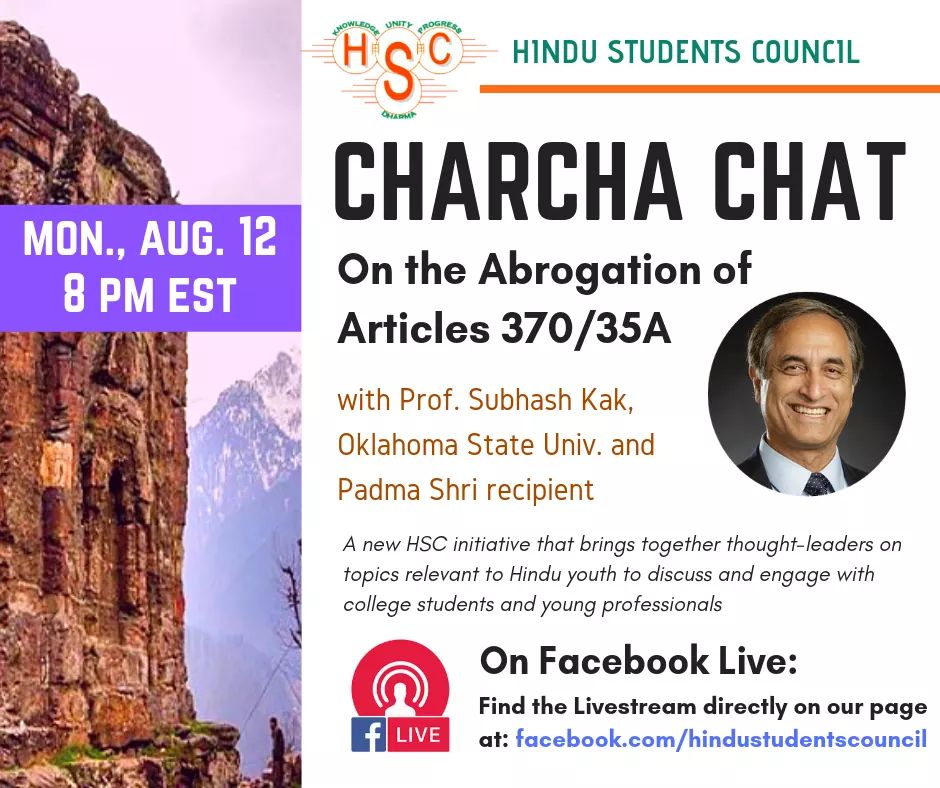 Namaste!
Please join Hindu Students Council TODAY, Monday, August 12 at 8:00 PM EST for our Charcha Chat conversation with Professor Subhash Kak on the abrogation of Articles 370/35A.  Charcha Chat is an online initiative through Facebook Live that brings thought-leaders to the HSC forum to discuss contemporary topics of interest to Hindu American youth and allows you the chance to participate.  Tomorrow's conversation with the brilliant Dr. Kak is not to be missed– we will delve into the traditional, historical connection Kashmir has shared with the rest of India and Hindu dharma; what Articles 370 and 35A are, and what their impact was on various communities, and on Kashmiri Pandits in particular; and finally, what the way forward is.  If you've been wondering about Articles 370/ 35A, join us as Subhash ji declutters this issue for you!
How to Participate:
At 8 P.M. EST tomorrow, go to http://www.facebook.com/hindustudentscouncil and look for the Facebook Live video feed.
Click on the video and as the conversation goes on, share your reactions and send us your comments and questions.  We will ask several of your questions during the webinar.
That's it!  It really is that easy and open to everyone.
Source: HSC