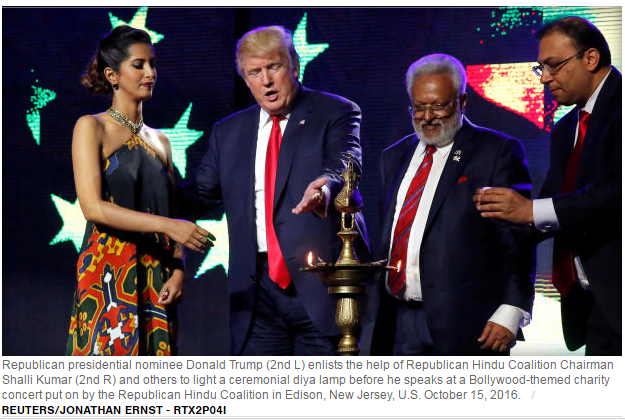 EDISON, New Jersey — Women in glittering saris roamed the space, as faint smells of samosas filled the air. Signs such as "Trump For Hindu Americans" and "Trump Good For India" lay on the seats in the New Jersey Convention Center and Expo in Edison – a town that is home to one of the largest Indian populations in the state.
As the traveling press arrived, about an hour before Donald Trump was to take the stage to address the Republican Hindu Coalition, the typical pre-Trump speech soundtrack was nowhere to be heard. The familiar sounds of the Rolling Stones and Luciano Pavarotti's version of "Nessum Dorma" were replaced with Indian music. It was not the typical venue for the Republican nominee. Trump's audience on Saturday night, typically almost entirely Caucasian, was mostly Indian.
"We came here to see Donald," said Ganesh Shahani, an Edison resident who immigrated to the United States from Bombay two decades ago. Shahani is an importer, who brings in products such as toys.
"I'm a Republican so I'm for business," Shahani said.
Forty-five-year-old Shahani is the rare Indian who identifies as Republican. According to a 2014 Pew study, "Sixty-five percent of Indian Americans were Democrats or leaned toward the Democrats, making them the Asian-American subgroup most likely to identify with the Democratic Party."
"I think he's misquoted a lot of times in the press," Shahani said. "Maybe because of the influence of the opposition.  You know, they quote him differently than what he really means."
This is Shahani's first election in which he eligible to vote, since he only recently became a U.S. citizen. He has three children – 15, 12 and 10 years of age.
Before Trump spoke, the crowd came to its feet for a fiery opening act. Only this time, it wasn't former New York City Mayor Rudy Giuliani, who had introduced Trump at his first two rallies of the day in Portsmouth, New Hampshire and Bangor, Maine. It was Prabu Dheva, a star choreographer in India.  One Indian news outlet said Dheva "is known for explosive dance moves which will make you wonder if the man has any bones at all in his body."
It was an apt description. Surrounded by backup dancers, also dressed in traditional Indian costumes, Dheva moved as if he had electric shocks running through his body. In response, some members of the audience did as well.
Trump was introduced by a Chicago-based businessman, Shalabh Kumar. For months, he has been a proponent of Trump's candidacy has donated thousands to his campaign.  Kumar is Trump's most prominent Indian-American supporter.
"He is a businessman, yes. It makes a lot of sense when he talks business. For example, fiscal discipline, everybody talks about reducing debt, 20 trillion debt, when politicians talk about cutting debt, cutting spending, they mean something else," Shalabh Kumar said on CNBC this week. Kumar also told Reuters this week that Trump is sympathetic towards India, in tensions with Pakistan.
On Saturday, Kumar introduced Trump as his "friend."
Eventually, Trump came on stage. And in typical Trump style, he didn't change his approach for anybody. He walked on to his usual "Proud To Be An American," a Lee Greenwood classic.
Before speaking, Trump lit a "diya"  – an oil lamp traditionally symbolizing good luck and knowledge. His walk-up song continued to blare.
"I am a big fan of Hindu and I am a big fan of India. Big, big fan," Trump told the crowd in a speech that lasted slightly more than ten minutes.
Trump spoke about his own projects in India — "India. You probably know, very successful, wonderful,  wonderful partners" — and he paid tribute to Indian-American contributions to the United States before moving on to the topic of combatting terrorism.
"When I'm president, we will stand shoulder-to-shoulder with India in sharing intelligence and keeping our people safe, mutually," Trump said.
And with the bravado that propelled Trump to the nomination, he talked about strengthening the ties between the United States and India.
"Under a Trump administration, we are going to become even better friends," Trump said. "In fact, I'll take the word 'even' out because we are going to be best friends. There won't be any relationship more important to us."
Trump also took a moment to pay tribute to India's Prime Minister Narendra Modi, and suggested he might use him as a model for governance.
"I look forward to working with Prime Minister Modi, who has been very energetic in reforming India's bureaucracy. Great man. I applaud him for doing so and I look for doing some serious bureaucratic trimming right here in the United States. Believe me, we need it also."
Forty-four-year-old Monika Patel said she was about 70 percent sure she would vote for Trump. But she said the recent controversies, including lewd comments caught on an "Access Hollywood" video from 2005, and a number of sexual misconduct allegations, were weighing on her.
Patel said she immigrated to the United States from Gujarat, in the western region of India, in 1993, to Piscataway, New Jersey. She is the mother of two college students, twins. Neither of them would come with her to the event because of their dislike of Trump.
"I'm sure he will make some difference for the Indians," Patel said. "I'm here positively for Trump, definitely."
She went on to say that Trump would improve the immigration system currently in place. Patel and her husband owned a liquor store in Bayonne, New Jersey, until he passed away. She sold the business and now works at a Walmart in Piscataway.
After Trump finished his speech, he walked away from the microphone and waved to the crowd. He came back for a short encore.
"We love the Hindus. We love India," Trump said, before walking off the stage for good.