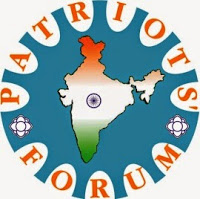 OPINION
February 12, 2015
Dear Friends,
Subject: Panel Discussion At IIC On March 21, 2015—Invitation For
The "Patriots Forum" is scheduled to hold a Panel Discussion on: "Growing Threats To India After The Emergence Of The ISIS" at the India International Centre (IIC) on March 21,2015.
The Panelists are:
· Shri Prakash Singh, former DGP. A security analyst and known for his passion and penchant for Police Reforms;
· Maj. Gen. Gagandeep Bakshi (retd), noted security analyst, one of the most well- known faces in TV channels.
· Shri O P Sharma, former DGP, Governor and a great scholar in his own right;
· Shri P C Haldar, former DIB and security analyst; and
· Shri Hiranmay Karlekar, an eminent journalist, scholar and security analyst.
The programme will start off at 10 a.m. with Shri R K Ohri, perhaps the best-known Islamic scholar, introducing the theme paper.
The proposed plan is: the panelists will by turn complete their presentations. They have been requested to speak more from their own background. That will present a mosaic of varied thoughts and nuances, enabling the listeners to fill their minds to their choice.
The subject will, thereafter, be thrown open for interaction between the learned members of the audience and the honourable panelists. It is planned this way because questions in the minds of the audience arising after hearing a particular panelist may be answered in due process in the presentation by the next panelist.
Plenty of time will be available for close interaction between the panelists and the members of the audience.
'Hopefully, some answers to what measures ought to be taken by those concerned to meet the situation will emerge. The Forum could then share the same with the appropriate authorities. The members of the general public will also have to be told and educated duly.
We gather in the morning of March 21 at 9:30am at the foyer on the ground floor for a hot cup of tea/coffee and then gather at the Conference Room 1, in time to start the deliberations at 10am sharp, on the first floor of the main building.
You all are sincerely invited to join the programme that we hope will generate enough interest. The space being a constraint, it will be first-come-first service. You may have to, therefore, schedule the timing for your visit accordingly.
We remain available for answering queries, if any, regarding the programme.
Thanking you and with best regards,
Dhanesh Nath
Source: Patriot Forum
Disclaimer: The opinions expressed within this article are the personal opinions of the author. World Hindu News  is not responsible for the accuracy, completeness, suitability, or validity of any information on this article. All information is provided on an as-is basis. The information, facts or opinions appearing in the article do not reflect the views of World Hindu News and World Hindu News does not assume any responsibility or liability for the same.