Hindu Mandir Executives' Conference

· P.O. Box 611, Iselin, NJ 08830 · (508) 875-0432 · www.myhmec.com ·
An invitation to 11th Annual Hindu Mandir Executives' Conference,
September 16-18, 2016 in Atlanta, GA
Holiday Inn Atlanta / Roswell Suites
909 Holcomb Bridge Road, Roswell GA 30076
Phone: 770-817-1414 • Fax: 770-817-1515
May 8, 2016
The Chairman / President,
Board of Trustees
Saadar Namaskaar
LEARN      SHARE     SUSTAIN
On behalf of the National Steering and HMEC 2016 Planning Committee, we cordially invite the present and past officers of your temple executives, community leaders, activists and scholars to participate in the 11th Hindu Mandir Executives' Conference (HMEC‐2016). As you may already know in the last 10 years, every year an average of 100+ temples participated across North America and the Caribbean in HMEC.
The largest annual conference for Hindu Organizations
Theme – Awareness and Awakening: The Future Role of Hindu Mandirs and Institutions
Ensuring the sustenance and growth of Dharma requires our collective thought, action and commitment. The Hindu temples, institutions, teachers, priests and practitioners have a critical and significant role to play in ensuring that not only the nuclear family but the global Hindu community stays dynamic, vibrant and rooted in our eternal principles and value system. Further, by re-evaluating the strategic directions and re-assessing the current state, we can effectively channel our combined resources and time-tested teachings to bring awareness within the local communities and help eliminate the unconscious biases. Raising such widespread awareness will require continuous outreach by the Mandirs and Institutions into mainstream North American society.  
This HMEC 2016 will deliberate upon how to leverage our core values and spiritualism not only for the sustenance of Hindu Dharma for generations to come but also strategies to benefit our adopted lands.  Atlanta will be a venue where this important question is deliberated upon for strategic planning and execution.
By virtue of your proven commitment to the cause of Hindu Dharma, such an important deliberation is incomplete in your absence. Your presence and the temples' representation is a key success factor for HMEC 2016.
HMEC 2012 is the next generation event of HMEC continued success and growth.
We request your honored presence and participation in the conference to shape the future trajectory of this important initiative. Please contact any member of the guiding team for additional information or clarification. Please visitwww.myhmec.com for on‐line registration.
Yours truly,
Host Team Members                                                             
Guiding Team
Convener:
Vipul Patel, 484-664-9420, patelvipulk@gmail.com; Sneha Mehta, 770-330-5461, snehajimehta@gmail.com, Dinesh Purohit, 678-468-5927, dpurohit@gmail.com
Program:
Amit Mehta, Ami Patel, 514-961-8414, Sharma Tadepalli
Host:
Kusum Khurana, Tejas Patwa, Dr. Indra Shah, Bhikhu (Bob) Patel, Pt. Gyan Prakash, Dr. P.B. Rao, Other Temple Executives
USA:
Abhaya Asthana, Hiranya Gowda, Kaushik Joshi, Surendra Pandey, Maithili Lee Bachu, Nangali S. Srinivasa, Navin Kadakia, Padma Kuppa, Pt. Murali Bhattar, Ram Hardowar, Ram Suchdev, Ravi Joshi, Sanjay Mehta, Sant Gupta, Sudershan Pasupuleti, Umesh Shukla, Vinod Gupta
Canada:
Hemant Parekh, Budhendra Doobay, Dwarka Persaud, Ramesh Gosyne, Ramnarine Sahadeo, Roopnauth Sharma, Rajesh Kapoor, Shubhash Khanna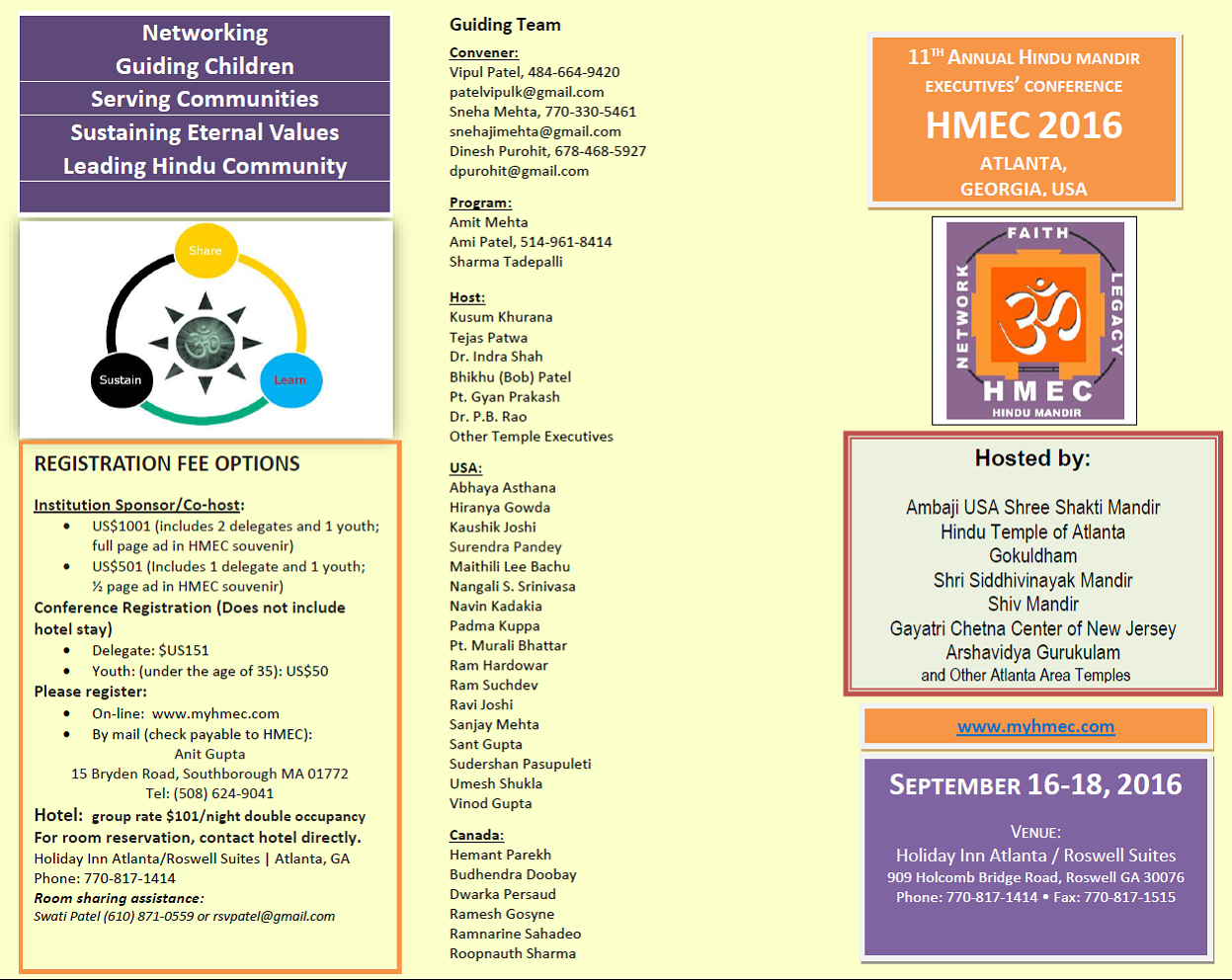 Source: World Hindu News (WHN)