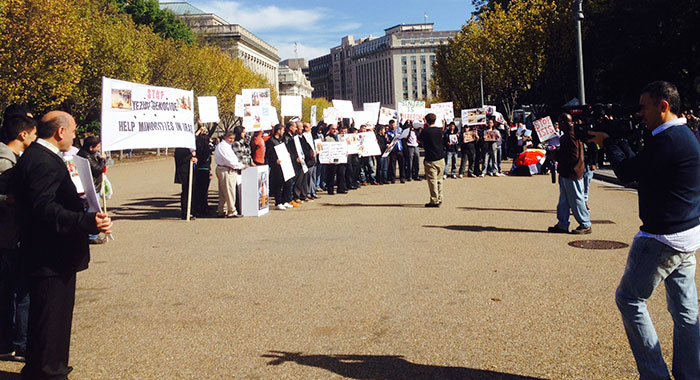 Yezidis and Hindus from across the US came together at Washington DC to protest the repeated targeting of Yezidis in Middle-East by the terror organisation Islamic State of Iraq and the Levant (ISIS).
Yezidis are the primary and easy targets of the ISIS. The ISIS has murdered thousands of Yezidis from across the Middle-East. Yezidis women and girls from across the Middle-East, have been abducted and sold into slavery by ISIS.
The terror outfit is methodically targeting Yezidis for slavery, conversion and death. As many as 7,000 Yezidi women and girls have been kidnapped and enslaved by the terror group. Thousands of Yezidi men and boys have been massacred and many others were forced to convert to Islam at the point of the sword.
Recently, the ISIS has laid siege to the Yezidi's Holy Mt Shingal, the last remaining outpost of Yezidi resistance.
The truly heroic efforts of the Yezidi, combined with some support from the Iraqi and coalition forces, have so far managed to maintain their hold of the strategic mountain. The situation, however, is a difficult one as the entire mountain is currently surrounded by ISIS terrorists.
Days ago, one of most successful military commander of the Yezidis, Khairi Murad Shex Khider, was killed in combat.
In an effort to raise awareness among the public and to urge the US Government and its 40-member anti-ISIL coalition into action, Yezidis from across the US and Canada gathered at Washington for a demonstration at the White House.
In a unique display of solidarity, the Hindu-Americans joined hands with the Yezidis in the peaceful protest. Together they urged the US Government to take action.
The demonstrators urged President Obama to take effective action in defense of the Yezidis fighting on Mt Shingal and to provide assistance in the rescue of the thousands of enslaved Yezidi women and girls.
Coinciding with the protest was the visit of a high level Yezidi delegation from Iraq. Baba Sheik, a leading member of that delegation, joined in the White House demonstration as well.
The Yezidis call for action was reinforced by the strong show of support from the Hindus in the greater DC area. The Hindus issued an appeal for donations and humanitarian aid on behalf of the struggling Yezidis.
At present, Yezidis are stranded in squalid refugee camps spanning the region from Turkey to Syria and Iraq. As winter approaches, the refugees are lacking basic necessities like water, medicine, sanitation and blankets.
Both the American Yezidis and Hindu-Americans issued an urgent call for the immediate relief and support for the Yezidi resistance efforts on Mt Shingal, the rescue of the more than 7,000 enslaved Yezidi women and girls and the distribution of humanitarian aid to the thousands of Yezidi refugees across the region.