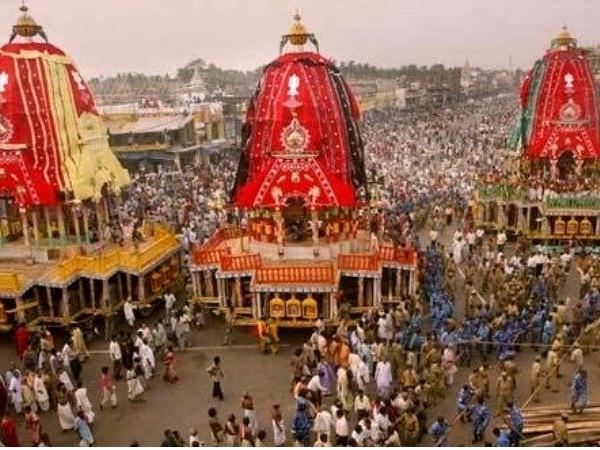 Jagannatha Puri Ratha Yatra 14th July 2018
By: Madya Lila
May the Lord's blessings be upon you on the auspicious day of Puri Ratha Yatra. In the holy city of Jagannatha Puri, the Supreme Lord resides within His ancient temple by the shores of the sea. Once every year, during the rainy season, Lord Jagannatha (Lord Krishna), along with His elder brother Balarama and His younger sister Subhadra come out of the temple to ride on magnificent chariots in a grand parade to the Sri Gundicha temple.
This festival is called Ratha Yatra, the journey (yatra) of the chariots (ratha) and it has been celebrated in Jagannatha Puri for many hundreds of years. It commemorates the occasion when Krishna, accompanied by His brother and sister, travelled by chariot from Dvaraka to Kuruksetra to meet their dear friends and family members from Vrindavan, fulfilling their wish to see Him again after many years.
In the 16th century, the great saint, Chaitanya Mahaprabhu, devoted 20 years of His life to worshipping Lord Jagannath and propagating the sankirtan movement in Puri. Due to His influence, millions of pilgrims from around the world visit Jagannatha Puri for the Ratha Yatra festival to gain darshan of the Lord. It is said that simply by seeing the Lord on the chariot, one makes advancement towards liberation from the wheel of birth and death. Srila AC Bhaktivedanta Swami Prabhupada, a prominent scholar and devotee in the line of Lord Chaitanya, inaugurated the international Ratha Yatra festivals that are now held in more than 100 cities around the world.
An important element of the festival is called Chera Pahara (sweeping with water). The Gajapati King, ruler of the medieval kingdom of Odisha, humbly and with great devotion sweeps the road in front of the chariots with a gold handled broom and sprinkles sandalwood powder and water. By the Gajapati's performing this menial service, we learn that no matter how exalted a person one may be, we are all the servants of the Lord. For this reason, it is recommended that at least once a year, we should engage ourselves in cleaning the temple of the Lord to help to remind us of our position as a servant of the Lord and to taste the happiness of humility.
Source: http://hinducouncil.com.au/new/jagannatha-puri-ratha-yatra-14th-july-2018/