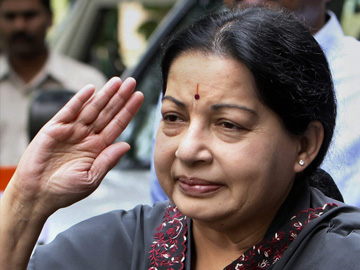 CHENNAI: 
Tamil Nadu
 chief minister J
Jayalalithaa
 on Monday reiterated her government's opposition to the Centre's proposed Prevention of Communal Violence (Access to Justice and Reparations) Bill, 2013, alleging that 'it seeks to trample upon the authority of the states.'
In a letter to Prime Minister Manmohan Singh, Jayalaithaa said the bill in its present form had too many lacunae and would not meet the intended objective of preventing communal violence.
With a few months left for the term of the present Lok Sabha to end and for generalelections to be announced, any hasty attempt to bring in such legislation without wide consultation amongst all political parties and stakeholders would be an undemocratic move. "I strongly urge you not to move the proposed bill in the ensuing winter session of Parliament," the chief minister said.
There have been renewed calls from certain quarters to enact the bill, in the aftermath of the recent incidents of communal violence in some parts of the country. Jayalalithaa said it would be extremely unwise to pose the bill as a one size fits all solution to a complex problem that required sensitive cooperation between the Centre and states. "In fact, the remedy proposed would end up being worse than the disease itself," she said.
For instance, according to her, the idea of setting up separate national and state authorities for communal harmony, justice and reparation has been excluded in the new draft bill. Instead, the national and state human rights commissions have been conferred the powers and functions of the authorities.
Overriding or superseding the constitutional authority of the elected state governments and giving superior powers to commissions with nominated members would be a travesty of justice and principles of democracy, Jayalalithaa said.
Criticizing the Union government for increasingly taking an 'ill-advised, counter-productive and unilateral' approach of attempting to create top down structures and parallel authorities that encroach upon the constitutional domain of the state governments, Jayalalithaa said this had been further underscored by the shoddy manner in which the Prevention of Communal Violence Bill was drafted.