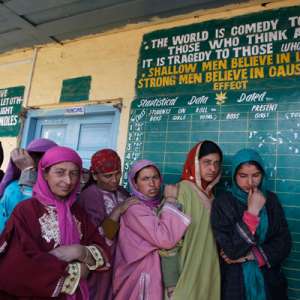 A Kashmiri Pandits' body has sought for the creation of a centrally administered Union Territory in Kashmir for sustainable and viable rehabilitation of Kashmiri Hindus in the Valley.
"Government of India should recognise the need of creating a centrally administered Union Territory on the north and east of river Jhelum as the only sustainable and viable means of resettling the internally displaced Kashmiri Hindus in Kashmir and reversing their genocide," Panun Kashmir (PK) chairman Dr Ajay Chrungoo told reporters here today.
Flanked by the PK convener Dr Agnishakher, Dr Chrungoo hoped that the new government led by BJP's Narendra Modi in New Delhi will address the issue of return of Kashmir Hindus as an issue of reversal of genocide and not as an issue of economic package.
"It hopes that the present government in the Centre will make a radical departure from its predecessors on the issue," he said.
Panun Kashmir reiterates that no other solution for the return of Kashmiri Hindus is acceptable to the Kashmiri Hindus, Dr Chrungoo said. 
Referring to surge in protests, and incidents of violence, Dr Agnishakher raised concerns about the increasing influence of militarised pan-Islamic fundamentalism in the Valley and parts of Jammu.
He said that it is shocking that the political class as well as governments at the state and Centre continue to downplay their growing influence.
PK leaders also termed journalist Ved Prakash Vaidik's meeting with Lashkar-e-Toiba (LeT) leader Hafiz Sayeed recently in Pakistan as highly objectionable.
Panun Kashmir also condemned the role of state administration who were seen hand in glove with the forces responsible for violating the Supreme Court ruling viz world famous Martand Teerth at Mattan Anantnag recently, they said.