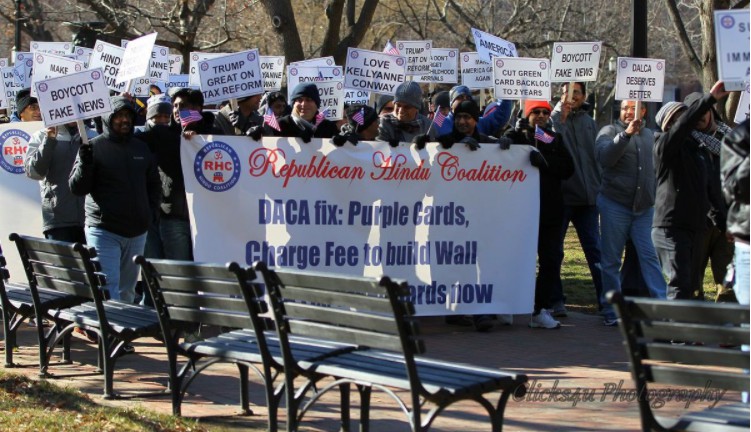 The Republican Hindu Coalition held a rally in Washington, DC Feb. 3, proposing a pathway to citizenship for H-4 children who face the prospect of having to return to India once they turn 21.
But, in a novel move, the organization and its supporters tied the fate of H-4 kids to those of Dreamers – 800,000 undocumented youth who receive relief from deportation through the Deferred Action for Childhood Arrivals program. RHC supports a program that would give DACA kids a purple card – as opposed to a green card – with no pathway to citizenship and a mandate to pay $2,500 per year to build President Donald Trump's much-vaunted border wall.
An estimated 7,300 Indian American youth currently receive relief from deportation and work permits from the DACA program. Overall, Asian Americans constitute 20 percent of DACA recipients. Trump rescinded the program Sept. 5, 2017, giving Congress a March 5 deadline to come up with a permanent fix.
People attending the RHC rally shouted slogans saying DACA should be renamed DAICA – Deferred Action for Illegal Childhood Arrivals. The group has coined the term DALCA for H-4 children who are aging out of the system: Deferred Action for Legal Childhood Arrivals.
H-4 children, the dependent minors of H-1B visa holders, face the daunting prospect of being forced to return to the home country once they turn 21 and are no longer considered dependent (see earlier India-West story here: http://bit.ly/2ru9w5A). Long delays of up to 70 years and backlogs in allocating employment-based green cards have left 200,000 H-4 children facing an uncertain future.
Shiva Moopanar, an executive member of the RHC, told India-West: "These are children of highly-skilled parents who have paid taxes and contributed to this country. They should be given a priority for green cards and citizenship."
Moopanar defended the RHC's position on Dreamers, saying those kids did not merit green cards nor a pathway to citizenship because they have broken the law to remain in the U.S.
The Indian American activist also defended the organization's proposal of DACA kids paying $2,500 a year to build a border wall, stating: "These children are making good use of this country's wealth. It is absolutely fair to ask them to pay it back, and contribute to this country."
Moopanar stated that undocumented immigrants do not pay taxes.
But the Social Security Administration noted in 2013 that the nation's 11 million undocumented immigrants add about $13 billion to the nation's coffers each year via payroll taxes.
Responding to the RHC proviso that DACA kids should pay for a border wall, Shekar Narasimhan, chairman and founder of the AAPI Victory Fund, told India-West: "This is divide and conquer. It's very short-sighted and absolutely wrong."
"The issue of aging H-4 children is a valid one and should be addressed, but you cannot pit one group of kids against another," he said.
"There is scope to address both issues at the same time. We should be working together for comprehensive immigration reform," said Narasimhan, advocating for a system that is both merit-based, but pays heed to family reunification.
The RHC has taken Trump's position on immigration, calling for an end to family reunification and a solely merit-based system.
Taking a page from the president's playbook, the RHC said in a press release that more than 1,000 people had attended the rally. Narasimhan estimated the crowd at about 200. "In DC, a gathering of 200 people is basically a group of pedestrians," he joked.
At the rally, The RHC also proposed to do away with the seven percent per-country annual cap on employment-based green card allocation, which has created a logjam for Indians.