Miley Cyrus posted a photo on Instagram that showed a priest performing Lakshmi Puja, a Hindu ritual performed to worship Goddess Lakshmi.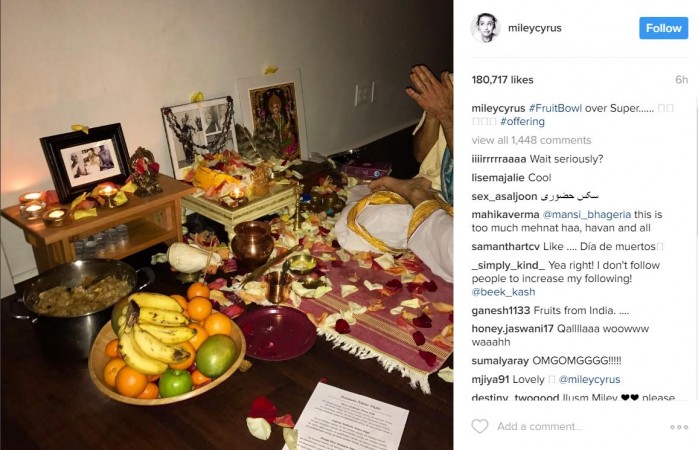 While Americans were busy with Super Bowl on Sunday, singer Miley Cyrus was busy with 'Fruit Bowl.' The 24-year-old American singer performed a traditional Laxmi Puja (Lakshmi pooja), a Hindu ritual performed to worship Goddess Lakshmi.
Cyrus, who is dating Liam Hemsworth, posted a few photos on Instagram that showed a Hindu priest performing the puja. One of the photos shows flower petals, photo of Hindu goddess Lakshmi, halwa, fruits, Lord Ganesha idol, candles and a shank (trunk) used during the puja. She captioned the image, "#FruitBowl over Super…… #offering."
 Another photo shows her room filled with flower petals, candles and colourful cushions and captioned the image 'PUJA.' She also posted two videos taken on the same day and captioned one of the videos as "Rose Angels! #Puja #mysore."
Earlier on Sunday, Cyrus was spotted carrying large colourful cushions with gold designs into her home in Malibu, Daily Mail reports. She wore a grey hoodie, black skinny leggings and chunky black shoes.
This is not the first time Cyrus showed her spiritual side to her fans. Cyrus also has several tattoos and two of them are related to Hinduism. She has inked 'karma' on one of her fingers and 'Om,' which is a sacred symbol in Hinduism, on her left wrist.
In other news, Cyrus recently threw a weed-themed birthday party to celebrate her boyfriend Liam Hemsworth's birthday. "There was literally a whole bar with bowls of joints, laced chocolate and bags of marijuana for guests to take," a source told Us Weekly.
"The party was intimate, mostly close friends and family," the insider said, adding, "It was very fun and everyone had a really relaxed time. Miley was socializing with all the guests and was supernice."