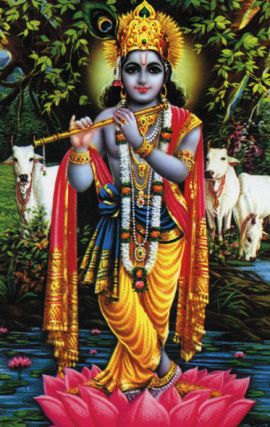 Shri Krishna Vrundavana Hindu temple in Edison (New Jersey) is organizing "Shri Krishna Pratishtapana and Brahma KalashOthsava" from May 28 to June 15; involving ancient rituals, philosophical symposiums and festivities around the consecration of uniquely created Saligrama Krishna statue.
It took six months to sculpt this Lord Krishna statue from the Saligrama rock brought from the banks of Gandaki River in Nepal after months of search. This sacred statue has visited over one hundred homes of devotees in New Jersey in May after its arrival from India and before installation in the specially constructed Garbha Griham in the temple to become its main deity.
History of this Hindu temple (which now stands on the location which was earlier Saint Nicholas Byzantine Catholic Church) goes back to 2002, when it was established in Iselin (New Jersey). Temple renovation began on May one and included importing about 3,000 cubic feet of teakwood from Burma for the Garba Gudi, besides other materials from India.
Rituals-events-festivities-symposiums during this period include Sapta Shudhi, Homas, Veda Paarayayanas, Japas, Balis, Samkeertanas, Saligrama Krishna Pratishtapana, various Poojas, Kalasha Pratishta, Avabhruta, Mantrakshate, discourse, music-dance performances, knowledge conference on Moksha and Karma, etc. Free lunch and dinner (Maha Prasada) is being served every day. Sri Sugunendra Teertha, the current pontiff of Shri Puthige Matha in Udupi (India), is participating.
Commending the temple leaders and area community for realizing this Hindu temple complex and organizing the ancient rituals, distinguished Hindu statesman Rajan Zed, in a statement in Nevada today, pointed out that it was important to pass on Hindu spirituality, concepts and traditions to coming generations amidst so many distractions in the consumerist society and hoped that this temple would help in this direction.
Rajan Zed, who is President of Universal Society of Hinduism, stressed that instead of running after materialism; we should focus on inner search and realization of Self and work towards achieving moksh (liberation), which was the goal of Hinduism.
This temple, on a 3.5 acres plot and built area of about 15,000 square feet in South Edison, opens daily at 06-30 am and conducts daily morning-evening Poojas. Besides worship services, it also celebrates many Hindu festivals and conducts various free classes on Sthotra, Geetha, Sanskrit, Sandhya Vandana, Slokas, Bhajan, etc. Its "Spiritual Sundays" programming includes "sessions focused on personal growth and development" and interactive session on "Dharma Tradition".
Dress code in temple's Pooja Hall includes covering "shoulders and knees", and dhoti is compulsory "while reciting Veda mantras". It also runs a Hindu matrimonial site called Dampathi.com, which states: "Marriage is not just living the outer life but the inner life as well." Donation for "Nithya Archane" for one year is $3,001; while suggested donation for "Chandikaa Homa" at devotee's home is $451 and for "Car Pooja" at the temple is $51.
Hinduism, oldest and third largest religion of the world, has about 1.1 adherents. There are about three million Hindus in USA.
Source: World Hindu News (WHN)