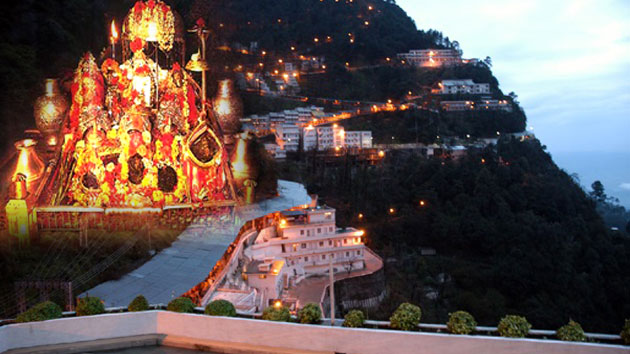 Sanjeev K. Sharma
JAMMU, July 25: Left with no hope of visiting the world famous Shri Mata Vaishno Devi Shrine to pay obeisance, a group of 46 Pakistani Hindus left for their country with a broken heart.
"This group of Pakistani Hindus had entered India through Wagah border in Amritsar on July 1 this year to perform pilgrimage at Haridwar while some of the members of this group had came to Haridwar to immerse the ashes of their deceased relatives in the holy water of Ganges," Gurdas Sharma—office bearer of a Jammu based organization that felicitates these Hindus at Haridwar informed.
He also said that a warm welcome was accorded to these Hindus at Haridwar under the leadership of Utrakhand Urban Development Minister, Madan Kaushik.
As per media reports there is no facility for microscopic minority community of Hindus in the Islamic Republic of Pakistan for immersing ashes of their deceased relatives.
There were even incidents were objections were raised on the cremation of deceased Hindus as it is against the tenants of Islam.
"All these visiting Hindus hailed from the port city of Karachi and were here for a week after which they left for their homes in Pakistan," Sharma informed.
Sources said that these foreigners cannot venture to the places not mentioned in their visas and entry to Jammu and Kashmir State was not granted to them in their travel documents.
"Right from Pakistan to India, authorities are reluctant in giving permission to Pakistani Hindus to visit Jammu and Kashmir," Sharma quoted a visiting pilgrim to say.
He further informed that the visiting group of these pilgrims was led by Dinesh and Mrs Paras and there were 60 per cent ladies in the group and rest were men or children.
"All these 46 people were from middle class families," he maintained and added that his organization provided them proper accommodation, food and organized Yagya for them.
"We also helped them join Ganga Arti," Sharma further said.
He informed that six of the visiting Hindus were with ashes of their dear ones for which special arrangements were made for immersion at Kankhal and Sarvanand Ghat under guidance of Pandit Ganga Ram Ji.
"Our organization also gifted them religious book for different temples in Karachi," he further said.
It is pertinent to mention here that in the year 2008 a group of 150 Pakistani Hindus mostly from Sindh paid obeisance at Shri Mata Vaishno Devi Shrine.
Many organizations had organized programmes to felicitate these Hindu brethren at Abhinav Theatre, Brahmin Sabha etc.
Then Divisional Commissioner Jammu, Dr Pawan Kotwal was Chief Guest in one such programme at Abhinav Theatre.
The famous 'Pahalwan Di Hatti' of Jammu had offered free of cost lunch to these pilgrims at Bari Brahmana while they stayed at Vaishnavi Dham near Jammu Railway Station during their three days Jammu visit.
However, this group of 46 people was not given permission by the Pakistan as well as by Indian Governments to visit Jammu and Kashmir State because the relations between the two neighbouring nations have deterred at present.
When contacted Additional CEO Shri Mata Vaishno Devi Shrine Board, Anshul Garg informed that in April 8, 2008 a group of 52 Pakistani Hindus led by Mahesh Kumar from Shri Jog Mata Mandir, Sindh had paid obeisance at Shri Mata Vaishno Devi Shrine.
He further informed that in November 6, 2009 another group of 110 pilgrims from same place under the same leader visited the Shrine and on February 24, 2016 a small group of three people led by Ramesh Lal and referred by BJP Katra visited the cave shrine to pay obeisance.