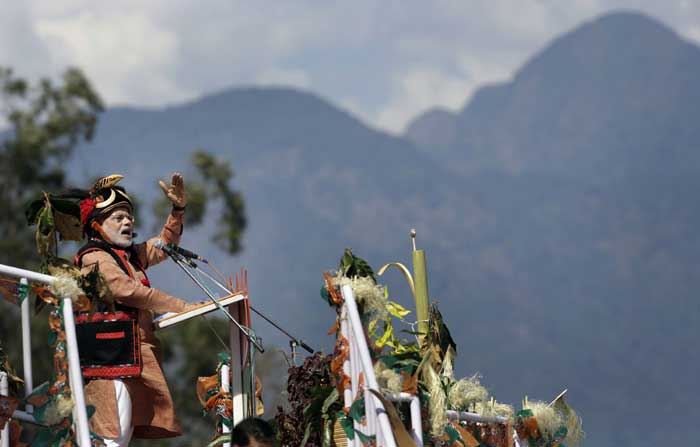 BJP prime ministerial candidate Narendra Modi on Saturday warned China against repeatedly staking claim over Arunachal Pradesh and asked it to give up its "expansionist attitude".
Addressing a rally in Pasighat in Arunachal Pradesh, not very far from the international border, Modi said, "No power on earth can take away even an inch from India. Moreover, the present world does not accept an expansionist attitude. Times have changed, China should give up its expansionist attitude and adopt a developmental mindset." The state shares 1,080 km of international boundary with China.
Stating that "Arunachal Pradesh is an integral part of India and will always remain so", Modi said, "Saugandh mujhe iss mitti ki, mein desh mitne nahin doonga, mein desh tootne nahin doonga, mein desh jhukne nahin doonga (I swear by this land that I will not let this country be destroyed, divided or bow down)."
Later, addressing another rally in Silchar in south Assam, Modi said Hindu migrants from Bangladesh must be accommodated in the country, while the others should be sent back.
"We have a responsibility toward Hindus who are harassed and suffer in other countries. Where will they go? India is the only place for them. Our government cannot continue to harass them. We will have to accommodate them here," he said. However, he said, the burden should be shared by all states.
"Vajpayee had launched a special scheme to rehabilitate Hindu refugees from Pakistan. Since a large number of Hindus are also being evicted from Bangladesh, their burden will have to be shared by all states. It will be wrong to let Assam take the entire burden," he said.
"The infiltrators, on the other hand, have to go. They will have to be sent back to where they came from. It cannot happen that the youth of Assam remain unemployed while infiltrators from outside come and snatch away whatever means of livelihood are available here. Let us form the government in Delhi. There will be justice," he said.
Modi also referred to Hindus being "harassed" in other countries. "Where will Hindus harassed in Fiji go? Where will those harassed in Mauritius go? Where will those harassed in the US go? Naturally they will have to come to India," he said. The Barak Valley in south Assam, which includes two Lok Sabha seats, has a sizeable Hindu population of Bangladeshi origin. With an eye on this vote bank, Modi appealed to the Election Commission to immediately remove the tag of "doubtful" voters from all Hindu names in Assam's electoral rolls. "Those debarred from casting votes by putting a "D" prefix in the electoral rolls must be given back their right to vote," he said.
In Arunachal, which has two Lok Sabha seats, Modi also tried to strike a chord by referring to the recent death of a student from the state in Delhi. "Nido Taniam was not just a son of Arunachal, he was India's son who was brutally murdered in the national capital. I have come with a heavy heart. I cannot look in your eyes, nor do I have the courage to raise my head to seek an apology for that incident," he said.
"Thousands of people from this region go out to serve this land in different states. They must be protected. They must be provided security," said Modi, as he lauded the patriotic nature of the people from the state. Referring to mythology to link Arunachal with Gujarat, he said, "My relationship with you people is several thousand years old, dating back to when Lord Krishna came all the way from Dwarka (Gujarat) to marry Rukmini from here (Arunachal). I have only come to strengthen this relationship of east and west. In India, the sun rises here and sets in my state."